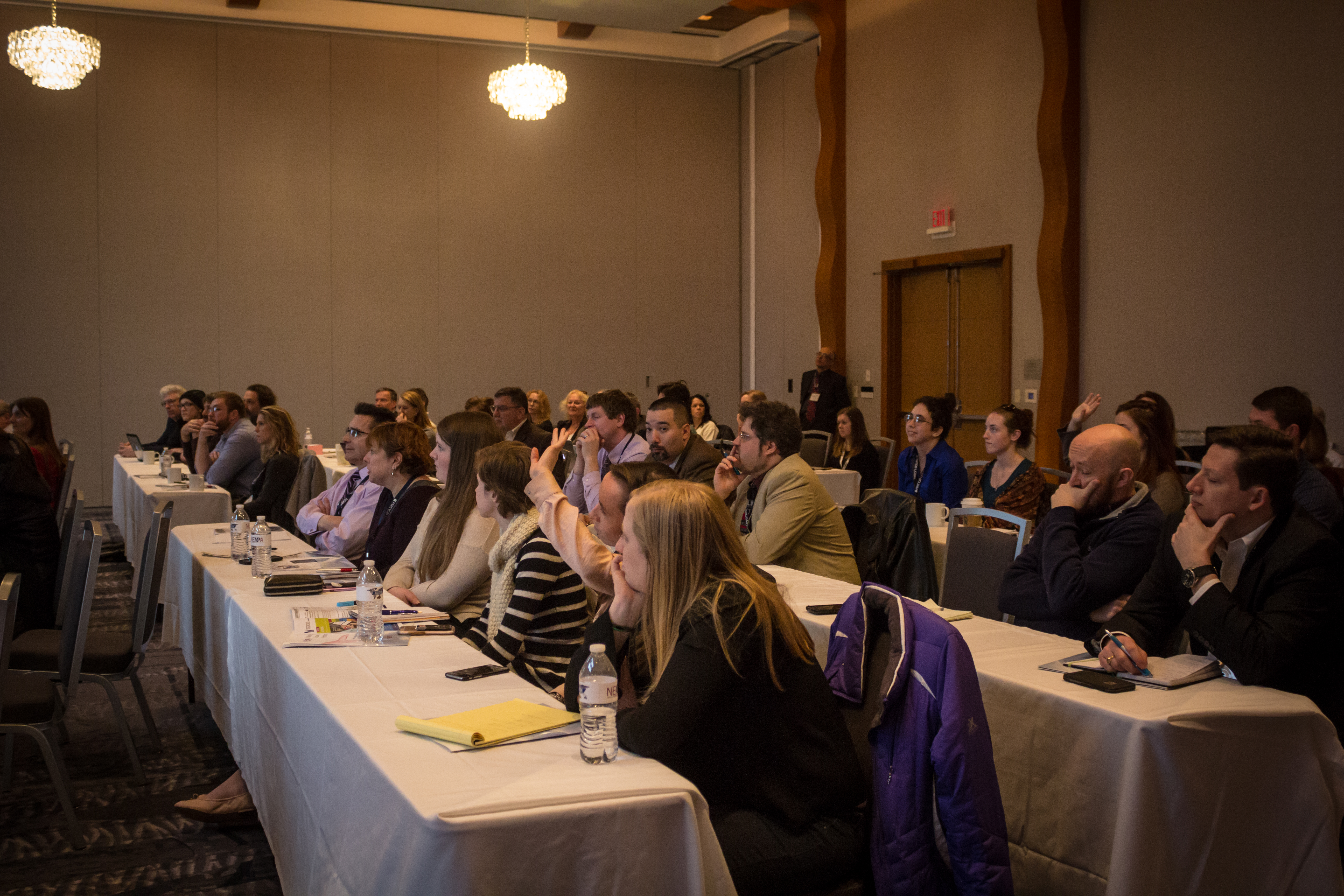 Tips and techniques for leveraging
social media in presenting the news
By Nadine El-Bawab
Bulletin Correspondent
The evolution of social media has made it easier than ever to access news at the touch of a button. And as Katie Bowler put it, it's a "good way to increase community engagement," but it has also made it harder than ever for journalists to do their job.
Bowler was a panelist at a session titled "Social media strategies for small media organizations" at the New England Newspaper and Press Association's recent winter convention.
BJ Roche, a journalism professor at the University of Massachusetts-Amherst, was on the panel with Bowler, a reporter at the Somerville (Mass.) Reporter, and three other young reporters, Aviva Luttrell, a reporter at MassLive.com, the online news site of The Republican of Springfield, Mass.; Serena McMahon, social media coordinator and a news writer at The Massachusetts Daily Collegian, the student newspaper at UMass-Amherst; and Faith Gregory, newsletter editor and a writer at the Amherst Wire, an online student magazine at UMass-Amherst, and Amherst Live, a live online magazine show.
The panel shared tips and tools to use Facebook, Twitter and Instagram to a news organization's advantage.
Luttrell provided statistics that showed that traffic on Facebook peaks about 8 to 9 a.m., making that a good time to post stories. But she also suggested another use for Facebook — "as a platform for receiving tips through Facebook messaging; have someone check that regularly … set up response assistance if you are not regularly checking it and tell (those trying to contact you) other ways to contact you."
She also suggested that journalists "join groups in the community to follow what people are interested in." That's a good way to get story ideas and to become Facebook friends with people in the community, Luttrell said. But she cautioned journalists to avoid being biased or one-sided on Facebook.
Luttrell suggested using Facebook Live's streaming video to "tease … future stories."
Bowler said journalists should publicize their Facebook footage all the time, but to make sure that you "have a captivating story when you are doing Facebook Live."
'Tweets with photos receive 18 percent more clicks.'
— Serena McMahon,
Social Media Coordinator, news writer,
Massachusetts Daily Collegian
Roche said it's good to have more than one person working on Facebook Live's live streaming at a time; have someone handling the camera and someone responding to the comments as they are made. When you are showing a live stream, it is also good to have your branding somewhere on the screen to increase brand awareness.
Gregory said hashtags can be fun to use on Instagram and Twitter, but because of the many possible combinations that could make up a hashtag, it's important to "have a tag style guide at your newspaper, and make it completely consistent" in using the most popular form of the hashtag to get the most social media attention possible and to keep all related posts under the same hashtag.
Gregory said she considers Instagram to be the best way to "visually engage with your audience, … (and it) allows you to attract a younger readership."
She suggested that in creating a caption, only put the lead of the story in the caption rather than a long summary.
Gregory said that for frequency of posting, "a couple of times a week is good … Don't over-post" because that will cost you followers. Try to stay consistent in the number of posts every week, so it is best to "have something in the bag when you don't have a post lined up," she said. Have backup stories that can be posted. Her general advice on using Instagram was: "If you are going to do it, do it well or don't do it at all."
McMahon discussed Twitter and said that "tweets with photos receive 18 percent more clicks."
She said horizontal photos look better on Twitter.
McMahon said "NPR does a good job of using photos with their tweets," and recommended visiting its account for examples.
She said it is important to schedule weekend tweets to keep your audience up to date when they have the most free time.
More social media tips from the panelists are available here.
More than 50 people attended the discussion Saturday, Feb. 24, in the Renaissance Boston Waterfront Hotel in South Boston.