By Jesse Goodman, Bulletin Correspondent
Glen Johnson on a plane trip with Secretary of State John F. Kerry, wearing headphones in background.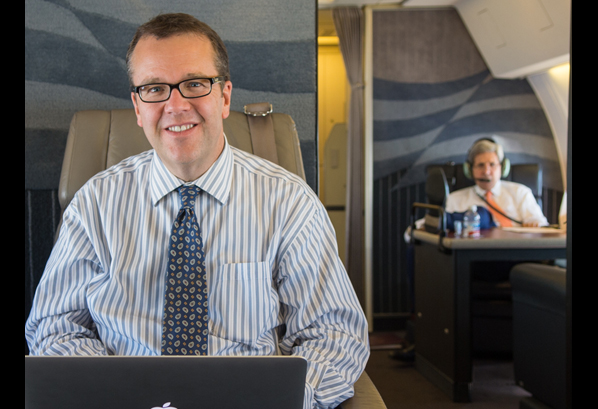 When Glen Johnson began his career as a journalist, he never thought that one day he would be a top aide to the U.S. secretary of state.
He began his news career in Chicago, before becoming a city hall reporter at the then-Salem (Mass.) Evening News, now known as just the Salem News. After a time as a city hall reporter at The Sun of Lowell, Mass., Glen became a statehouse reporter at The Associated Press in Boston, before joining The Boston Globe. Johnson had long been on government beats at both the Globe and AP, but he never thought he'd get the call that changed his career.
"I got a call from John Kerry while working for the Globe, right before he was confirmed as secretary of state," Johnson said. "He asked if I would work for him in a communications role. I thought about it overnight, and I was at a point in my career where I thought about new challenges, and I thought I'd never get this type of opportunity again."
Johnson, who was Kerry's deputy assistant secretary for strategic communication, had been a reporter for more than 27 years. During part of his time at the Globe and AP, Johnson had been stationed in Washington, D.C. While at the Globe, he was the politics editor of Boston.com, and had a column in The Sunday Globe called Political Intelligence. Johnson covered five presidential campaigns and eight national nominating conventions as a reporter.
Johnson will discuss his newspaper career and his time as an aide for John Kerry, as well as a book he is writing on his experiences, during his featured speech, "From breaking the news to making the news," at the New England Newspaper Conference at 2:15 p.m. Thursday, Oct. 12, at the Crowne Plaza hotel in Natick, Mass.
"My job as a reporter was to try and gather as much information as I could about what was going on in government and explain it to the reader and the public," Johnson said. "My job in the government was to learn as much as I could about what we were trying accomplish and what kind of things we were trying to highlight about my boss' (John Kerry's) activities and share them with the public."
Johnson planned most of Kerry's trips, and ended up becoming an official photographer for Kerry. By the time Kerry had left as secretary of state, Johnson had taken more than 100,000 photos of him. Together, Johnson and Kerry traveled more than 1.3 million miles to 91 countries and all seven continents.
Johnson said his experience in journalism helped him in his new role.
There were some common denominators even though one role was outside the government and one was inside it, Johnson said.
"I knew what would interest me as a reporter and I knew what would interest my former colleagues," he said.