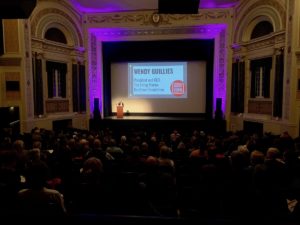 Keene, NH – The annual Radically Rural, two-day summit opened today in Keene, NH. The summit provides a uniquely rural point-of-view for community-building, news coverage, entrepreneurship and economic development.
The Hannah Grimes Center for Entrepreneurship and The Keene Sentinel partner to present Radically Rural, which includes program tracks on entrepreneurship, arts and culture, community journalism, Main Streets and downtowns, working lands and renewable energy.
NENPA Executive Director Linda Conway and NENPA Communications and Events Director Christine Panek are attending the conference and NENPA provided marketing support for the event.
"Rural communities have distinct challenges and opportunities that are not adequately addressed by conventional economic development conferences. Radically Rural prioritizes innovative approaches specifically designed for rural places," said Terry Williams, President and COO of the Keene Sentinel.
The summit transforms Keene's downtown into a conference center, utilizing small venues. Attendees will pass coffee houses, restaurants, shops, and meeting places to find event locales at The Colonial Theatre, old County Courthouse, the Historical Society of Cheshire County, Keene State College, Keene Public Library and the Hannah Grimes Center for Entrepreneurship.
The conference continues tomorrow September 20 from 9:00 am – 3:00 pm. For more information visit https://radicallyrural.org.