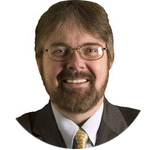 Kevin Slimp
Kevin Slimp is director of the Institute of Newspaper Technology.
Email questions to him at
kevin@kevinslimp.com
I remember the first time I spoke in Chattanooga, Tenn. It was 1994 and I had just developed a new way to create and transmit newspaper ads.
Preparing to speak from the stage at the Chattanooga Choo-Choo Hotel, I looked over the audience of 150 or so publishers before hearing a voice from the front row. It was Joe Stagner. We became friends quickly.
Joe's health took a bit of a turn for the worse a few years back, so he hasn't made it to many conventions, although he has made the trip to Nashville for a few breakfasts that have become a tradition for me and a few of my publisher friends.
So when I first received an email from Joe recently, asking how to place an html widget on an Adobe Muse Web page, I wondered where he learned about Muse and what in the world he was using it for.
That's when he told me the news. He had just designed a website for his newspaper and he was ready for it to go live.
This I had to see.
Joe is the publisher of Your Community Shopper, the community paper in Ardmore, a town on the border of Tennessee and Alabama. His paper is a member of both states' associations. I looked at his website, yourcommunityshopper.com, and quickly realized that Joe was on to something. Honestly, it looked great.
"Joe," I asked, "where did you learn to design a website in Adobe Muse?"
"The truth is I learned it on your show," he was quick to reply.
"What show?" I asked.
"Do you remember when you sent out an email a couple of months ago, saying you would teach us to design a website in Muse in 40 minutes? That's where I learned it."
First, I reminded Joe, the webinar lasted 70 minutes, a minor lapse in memory. I wanted to know more.
He continued: "That short instructional video covered the very basics of creating and posting a website. After watching it two or three times I decided, 'I can do that,' and our website was born."
I asked if anyone was helping him with the site.
"I am doing everything myself now. Patricia (Coulter) and I do pretty much everything for the paper and the website. Patti (Stagner) does all the page layout after all the pieces are ready for assembly. I have a part-time saleswoman Denise, and a part-time clerical worker, Ann, and two delivery people, Joy and Darby Barnes. That's the whole staff."
I took a quick look at Joe's previous website, which was available in archive. The new look, designed in Muse, was a significant improvement.
I asked Joe if it wouldn't be easier to use a vendor to create his website. He seemed pretty determined to get the job done on his own.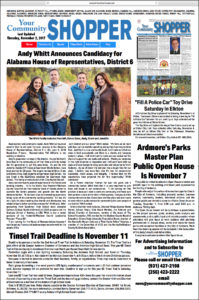 "It is time-intensive now, while I'm learning the software. However, as I put less new material on the site and build a way for people to subscribe to the newspaper, I think the site will become much easier to update. I'm still deciding what I want to be standard information they can count on seeing every week and what will not be there. I'm starting to find that less is actually more."
I don't know that I'll recommend to many of my newspaper friends that they take the time to design their own sites from scratch, but Joe seems pretty happy with his results.
I asked Joe what he likes best about Adobe Muse, which comes with the standard version of Adobe Creative Cloud software.
"All the functions that work like InDesign make it easy to get started right away. Access to the type library is great. I am sure that I will find many more things that I like as I learn more about everything that is available to me."
"So you really learned that from one video?" I asked.
"I sure did. I had to watch it two or three times, but I got it."
I could hear the grin in his voice.
"Just imagine," I said," if we'd had two hours!"
I'm proud of Joe. If you'd like to see his creation, take a peek at yourcommunityshopper.com. Be sure to tell him Kevin says, "Hey," while you're there.