By John Voket – President, NENPA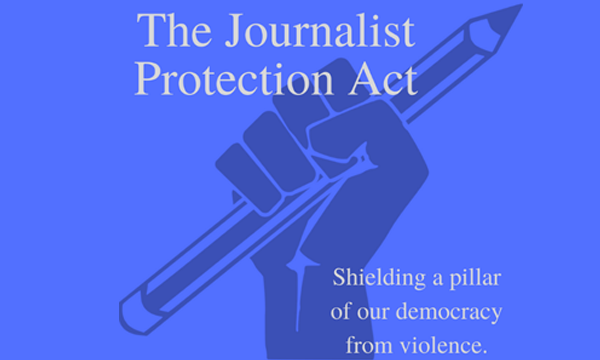 As recently as a few days ago, The Washington Post reported that President Donald Trump's pushback over being peppered with tough questions by members of the White House Press Corps resulted in newly installed Deputy Chief of Staff Bill Shine and press secretary Sarah Huckabee Sanders barring CNN correspondent Kaitlan Collins from an open-media event in the Rose Garden.
The reason given, according to The Post, was because they objected to her questioning of the president earlier in the day. This represented the latest action (as of July 25) that Trump, his designees, and a growing number of his supporters across the country targeting a media representative in retaliation to them simply carrying out their constitutionally protected right and professional responsibility.
But long before Election Day 2016, U.S. Senators Richard Blumenthal (D-CT) and Bob Menendez (D-NJ) felt growing concerns about how then-candidate Donald Trump was characterizing a growing number of mainstream newspaper and broadcast outlets, and responding to reporters with insults, insinuations, and countless references to their work as "fake news."
Following the June 28 shooting at the Annapolis, Maryland Capital Gazette – which killed five and injured two other staffers – a growing number of Americans, members of the media, and political leaders including Senator Blumenthal have suggested that the constant berating and demonizing of the press by the president and legions of his supporters, "gives license" to those who might seek to do personal harm to journalists.
Scant weeks earlier, Blumenthal and Menendez introduced the Journalist Protection Act which, if passed, would make it a federal crime to intentionally cause bodily injury to a journalist affecting interstate or foreign commerce in the course of reporting or in a manner designed to intimidate him or her from newsgathering for a media organization.
 A Clear Statement
The senators believe the proposal represented a clear statement that assaults against people engaged in reporting are unacceptable, while providing law enforcement the legal tools to pursue and punish those physically interfering with news gathering.
"A free, unfettered press has always been a hallmark of our democracy. At this extraordinary moment in our history, the press's role in our democracy is more critical than ever – uncovering and reporting information, exposing wrongdoing, and holding public officials accountable," Blumenthal said in a release after submitting the bill along with his colleague.
"Reporters face a near-daily barrage of verbal attacks from this administration, which has the very real consequence of casting the media as enemies of the American people, and possible targets of violence," Sen. Blumenthal said. "This legislation makes clear that engaging in any kind of violence against members of the media will simply not be tolerated."
Sen. Menendez pointed out that over 200 years ago, America's founding fathers had the foresight to recognize the importance of a free press to a fledgling democracy.
"Today, that importance cannot be overstated," he said "Despite the dangerous rhetoric coming from the Trump Administration, and the disturbing uptick in attacks on working reporters, the press is not the enemy of the people. A free, and independent press — a strong Fourth Estate — is essential to the American people and our democracy, ensuring an informed public and holding those in power accountable. We cannot condone any physical attacks on journalists or members of the media."
Numerous Incidents
The senators' release indicated the bill's introduction coincided with attacks on the media by the Trump Administration, that included barring of other CNN and AP reporters from a public event in late May with then-EPA Administrator Scott Pruitt, and forcibly removing an AP reporter from the building. 
Earlier that same week, the senators saw 60 Minutes correspondent Lesley Stahl reported that President Trump explained his attacks on the press by saying, "I do it to discredit you all and demean you all so that when you write negative stories about me no one will believe you."
President Trump has, the senators said, described mainstream media outlets as "a stain on America," "trying to take away our history and our heritage," and "the enemy of the American People."
At the end of April, Blumenthal and Menendez learned the watchdog organization Reporters Without Borders dropped the United States by two places in its annual World Press Freedom Index. Four days later, they heard President Trump called the White House press corps "a bunch of fake news liberals who hate me."
"President Donald Trump's conduct invites violence against journalists. It's not just about labelling reports of his constant falsehoods as #FakeNews – it's his casting of media personalities and outlets as anti-American targets, and encouraging people to engage in violence," said U.S. Representative Eric Swalwell (CA-15) in the release.
Swalwell is the author of the bill in the House of Representatives.
"Most Americans know that our freedoms rely on an informed public," he added. "Whether we appreciate the news or not, we must not let violence curb its gathering and dissemination — doing so is a calling card for dictatorship."
In February, as Blumenthal and Menendez were in the early stages of researching for their bill, they learned that WPIX reporter Howard Thompson and photographer John Frasse were attacked by a bat-wielding man while working on a story in the Bronx, New York.
They also got wind of an incident in July 2017, where OC Weekly photographers Julie Leopo and Brian Feinzimer along with intern Frank Tristan were assaulted by demonstrators at a Make America Great Again rally in Huntington Beach, Calif.
In an August confrontation, they said a reporter was punched in the face for filming anti-racism counter-protestors in Charlottesville, Virginia. And a few weeks later, Joplin, Missouri blogger Randy Turner was similarly attacked after reporting about a federal sexual harassment lawsuit against managers of a Joplin Sonic restaurant.
Industry Support
The Journalist Protection Act is supported by the Communications Workers of America (CWA) and by News Media for Open Government, a broad coalition of news media and journalism organizations working to ensure that laws, policies and practices preserve and protect freedom of the press, open government and the free flow of information in our democratic society.
"This is a dangerous time to be a journalist," said Bernie Lunzer, president of The NewsGuild, a division of the CWA in the release. "At least 44 reporters were physically attacked in the U.S. last year and angry rhetoric that demonizes reporters persists. The threatening atmosphere is palpable. The Journalist Protection Act deserves the support of everyone who believes our democracy depends on a free and vibrant press."
"Broadcast employees assigned to newsgathering in the field often work alone, or in two-person crews," said Charlie Braico, president of the National Association of Broadcast Employees and Technicians, also a CWA division. "With their expensive and cumbersome equipment, they are easy and tempting prey for anti-media extremists and thieves. The Journalist Protection Act will permit the authorities to properly punish people who attempt to interfere with our members as they work in dynamic and challenging situations."
Joining Rep. Swalwell, Journalist Protection Act co-sponsors in the House of Representatives include U.S. Representatives Steve Cohen (TN-09), David Cicilline (RI-01), Grace Napolitano (CA-32), Eleanor Holmes Norton (DC), Andre Carson (IN-07), Debbie Dingell (MI-12), Darren Soto (FL-09), Ro Khanna (CA-17), Jose Serrano (NY-15), Bobby Rush (IL-01), Maxine Waters (CA-43), and Gwen Moore (WI-04).
The NENPA Bulletin recently interviewed Senators Blumenthal and Menendez on their efforts to better protect journalists and the freedom to which they are constitutionally entitled. Blumenthal took the opportunity to respond to the following questions in person. Due to scheduling challenges on deadline, Menendez opted to respond via email.