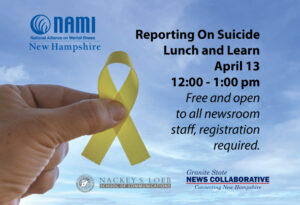 Suicide is a major public health issue, affecting individuals and communities across the world. The way in which media and online platforms report on suicide can have a significant impact on the mental health of individuals and the wider community.
To help navigate coverage of this issue, The Granite State News Collaborative, The Nackey S. Loeb School of Communication, and NAMI NH will offer a one-hour Lunch and Learn presentation to discuss tips on how to cover suicide and answer questions.
The presentation will be ONLINE, April 13, from 12-1 pm. The session is free and is open to all newsroom staff.
Registration is required at this link: