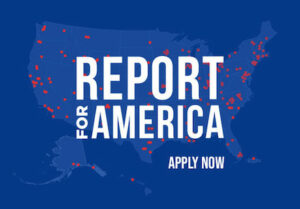 The deadline for news organizations interested in partnering with Report for America to host emerging and experienced journalists in their newsrooms is Sept. 30.
Report for America is a national service program that places talented journalists—corps members—into local newsrooms to report on under-covered issues and communities. Through the program, host newsrooms receive:
Service-minded reporters, photographers and videographers
Diverse, hand-picked candidates from a pool of emerging and experienced journalists
Subsidized salary support, up to half for the first year
Local fundraising coaching and resources
Extra training and mentoring for journalists
The application deadline is September 30, 2021, and newsrooms will be publicly announced in December. More information about how the program works can be found here.