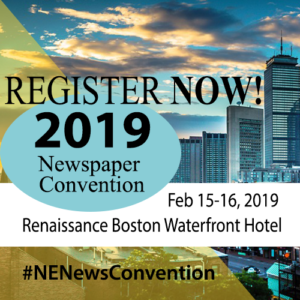 Believe it or not 2019 is right around the corner … and so is the largest newspaper convention in New England.
The 2019 New England Newspaper Convention is shaping up to be one of the best convention's yet. The convention is jam-packed with dozens of sessions and panels that address the latest developments, opportunities and obstacles in the newspaper industry. With over 600 attendees, the event is not only an opportunity to learn and gain some fresh ideas, but a chance to network with other newspaper professionals throughout New England.
The 2019 line up of speakers are passionate, engaging and ready to share their best ideas. Be sure to sign up early to ensure you get a seat in the sessions and panels that are most important to you.
Here are just a few of the 2019 session topics that you don't want to miss …
Trauma Journalism: Self-Care For Journalists
50 Ideas in 50 Minutes
Alternative Story Formats: How To Shake Up Your Story
Public Trust & Misinformation
Podcasting 101
Investigative Journalism
The Real Future of Journalism
Covering Courts
Video: How To Monetize
What's Next With Preprints?
This year the New England Newspaper Convention will be held on February 15th and 16th at the Renaissance Boston Waterfront Hotel in Boston, MA. Students pay just $29 (sessions only).