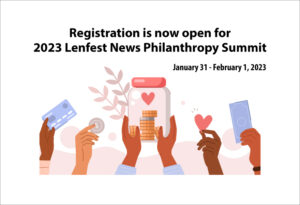 Registration is now open for the 2023 Lenfest News Philanthropy Summit, a free virtual gathering focused on the transformative work of fundraising in sustaining essential journalism.
The News Philanthropy Summit will be held over two days on Tuesday, January 31 and Wednesday, February 1, 2023. It is fully virtual and open to all.
The theme of the Summit is Transformation. Through hands-on workshops, inspiring keynotes, and peer sharing, we'll explore how we can transform the ways we sustain news organizations through philanthropic support, how to deepen relationships between development professionals and donors, how to reimagine the role of institutional funders within the journalism space, and much more.