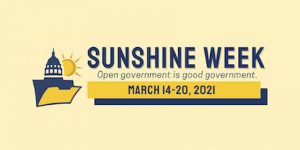 As journalists, we rely on open government and freedom of information principles to keep the public informed about their government. Too often, though, we are met with roadblocks.
With Sunshine Week happening on March 14-20, we invite you to hold our government leaders and agencies accountable by running an editorial on the importance of open government.
Please join us in raising our collective voice for transparency and access to public information, and what it means for your readers and community.
This is a call for action on the importance of open government. Please publish an editorial during Sunshine Week, March 14-20. Write your own or you can use one of the two below. To educate your staff or readers a list of free Sunshine Week webinars is also included below.
Let us know that you'll be participating and we'll collect all editorials submitted and feature them in our eBulletin at the end of the month.
Contact Tara Cleary at t.cleary@nenpa.com with any questions.
SUNSHINE WEEK FREE WEBINARS
There are no upcoming events to display at this time.