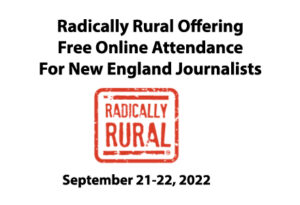 Discounts are available to attend Radically Rural's Community Journalism program. This year's programming focuses on the challenges journalists face covering splintered communities and the issues that divide us.
The event will be staged in person in Keene, N.H., and online on Sept. 21 and 22.
If you sign up, use the word NENPA in the access code field, and save $20 off either in-person or online attendance. There is also a limited number of free tickets to attend online available to New England journalists through a Knight Foundation sponsorship.
Those interested should contact Terry Williams, President & COO, of The Keene Sentinel at twilliams@keenesentinel.com.
Registration is open up to and throughout the event.
Go to www.radicallyrural.org for more information.

COMMUNITY JOURNALISM PROGRAM
Sept. 21 I 1:30 p.m. – 3:00 p.m.
Covering the Divide: An exploration of how news organizations can better serve communities that are split over politics, the pandemic, guns, policing, voting and more.
Moderator – Elizabeth Stephens is the executive editor for the Columbia Missourian and the community newspaper chair at the Missouri School of Journalism. She is an associate professor and has led audience engagement and digital efforts at the Missourian. In her role as digital director at KOMU, she oversaw digital strategy and trained digital producers. Previously, she worked as an editor at SNL Financial in Charlottesville, Va., and copy desk chief at the Columbus (Ga.) Ledger-Enquirer. She holds both a master's and bachelor's degree from the University of Missouri.
Panelists – Tony Baranowski, manager, special projects, Cedar Rapids Gazette, Iowa; Sara Konrad Baranowski, deputy managing editor at the Cedar Rapids Gazette, Iowa; and Peter Huoppi, director, multimedia, The Day, New London, CT, and co-producer of the documentary, "Those People."
Sept. 21 I 3:30 p.m. – 5:00 p.m.
Better Judgment: How innovative newsrooms are changing their coverage of cops, courts, climate and other intersections of justice to provide fairer, more equitable news reporting.
Moderator – Cierra Hinton, publisher, Scalawag. Hinton has an undying love and passion for the complicated South, which she brings to Scalawag where she oversees operations and planning. According to its mission, through journalism and storytelling, Scalawag works in solidarity with oppressed communities in the South to disrupt and shift the narratives that keep power and wealth in the hands of the few.
Panelists – Paul Cuno-Booth, freelance journalist and reporter on several alternative justice projects in New Hampshire. Molly Born, West Virginia multimedia producer and educator, now documenting West Virginia's history and future. DaLyah Jones, freelance journalist and former Director of Engagement and investigative reporter at the Texas Observer.
Sept. 22 I 2:00 p.m.  – 3:30 p.m.
Crazy Good – 50 ideas to make you a better journalist
Jeremy Caplan, director of teaching and learning at City University of New York Newmark Graduate School of Journalism. Caplan teaches classes, workshops and webinars on entrepreneurial and digital journalism. He is a former Ford Fellow in Entrepreneurial Journalism at the Poynter Institute, a Wiegers Fellow at Columbia Business School, where he earned his MBA, and Knight-Bagehot Fellow at Columbia Journalism School, where he earned a master's degree in journalism.