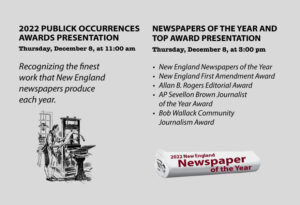 The New England Newspaper Conference presents critical presentations and discussions that every newsroom should attend – but we'll also be honoring the most outstanding work of the year.
Come celebrate with us and congratulate your friends and colleagues!
Awards will be presented in two separate sessions – the first at 11 a.m., and the second at 3 p.m. Listed below is the schedule of when the awards will be given out during the Thursday, December 8 conference.
11:00 a.m. Publick Occurrences Awards, recognizing the finest work that New England newspapers produce each year in individual or team stories, series, spot-news coverage, columns, or photojournalism that ran in print and/or online.
This year, Publick Occurrences awards will be presented to the following news organizations:
The Day
Connecticut Health I-Team
Sun Journal
Mass Live
The Eagle-Tribune
Inquirer and Mirror
The Berkshire Eagle
The Martha's Vineyard Times
Concord Monitor
New Hampshire Union Leader
Granite State News Collaborative
Providence Business News
Seven Days
___________________________
At 3:00 p.m., join us for the presentation of the Top Individual Awards listed below and the New England Newspaper of the Year Awards.
New England First Amendment Award:
Sun Journal, Lewiston, ME
AP Sevellon Brown New England Journalist of the Year:
Jill Harmacinski,
Eagle-Tribune, North Andover, MA
Allan B. Rogers Editorial Award:
New Hampshire Union Leader
Bob Wallack Community Journalism Award:
Steve Collins, Sun Journal, Lewiston, ME
New England Newspaper of the Year Finalists
Weekday circulation up to 10,000
Patriot Ledger
Keene Sentinel
Brattleboro Reformer
Gloucester Daily Times
Weekday circulation 10,000-20,000
The Day
Record-Journal
Berkshire Eagle
Daily Hampshire Gazette
Weekday circulation of more than 20,000
The Republican
Republican-American
The Providence Journal
Sunday circulation up to 25,000
The Day
Eagle-Tribune
Record-Journal
Berkshire Eagle
Sunday circulation of more than 25,000
Telegram & Gazette
The Providence Journal
The Sunday Republican, Springfield
Weekly circulation under 5,000
Vermont Standard
Mt. Desert Islander
Martha's Vineyard Times
Weekly circulation of more than 5,000
Seven Days
Inquirer and Mirror
Provincetown Independent
Specialty Publications
New Boston Beacon
Worcester Magazine
Providence Business News
We invite you to join us for in-depth discussions with experts in the media industry and to honor these exceptional publications and journalists.