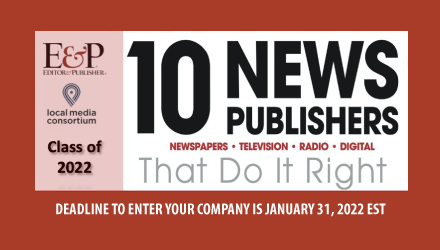 The March 2022 issue of Editor & Publisher will profile the "10 News Publishers That Do It Right." The list is meant to spotlight select news operations (print, digital, broadcast, or newsletters) that have earned a notable achievement in at least one particular area, carried out a successful innovation, implemented cost-savings procedures, or developed programs that have generated revenues or increased audience.
NENPA member, Record-Journal, Meriden, Conn. was included in the 2021 story and the objective of the story is to bring ideas together and share the best and the brightest in one comprehensive feature.
Nominate your company today using the link below and you may be featured in the March edition of E&P Magazine!
The deadline for entries is Midnight (ET) Monday, January 31st, 2022.