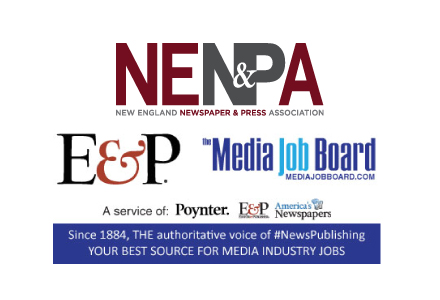 The New England Newspaper and Press Association job page is a great resource for finding newspaper and journalism jobs throughout New England and for media companies to place job listings to recruit qualified candidates. Job listings are updated regularly and often include open positions for journalists, editors, publishers, photojournalists, newspaper and digital ad sales, and more.
NENPA members can post journalism and newspaper job openings for FREE as a member benefit. We have recently expanded this member benefit through a partnership with The Media Job Board. NENPA members can now also receive a complimentary 30-day job listing on The Media Job Board ($149 value, 1 per year) when posting a job listing on the NENPA job page.
Non-NENPA members may post job openings for $275 per listing on the NENPA job page (not eligible for a free listing on The Media Job Board).
The Media Job Board was launched as a partnership between Editor & Publisher, The Poynter Institute, and America's Newspapers. The Media Job Board is a complete, comprehensive recruitment vertical offering the latest technology to help you find the best candidate match.
For those interested in expanding their search beyond New England. Visit our partner Mediajobboard.com, where job seekers have access to national media job search functionality, and employers have access to a large database of qualified candidates.
For more information and to submit a job posting email info@nenpa.com.