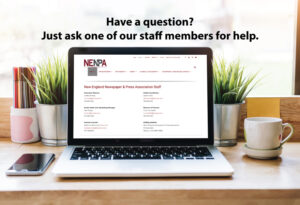 Dear NENPA members,
For the past five years, NENPA has leased office space from the Daily Times Chronicle in Woburn, Mass. Prior to that, we were located on the campuses of Northeastern University at no cost.
The NENPA staff has worked remotely since the pandemic's start, and we have learned that we have had no loss of productivity. The expense of leasing the space and other costs associated with an office is no longer justified.
Our lease expires on June 30, 2022, and we will make the remote work environment permanent as of that date.
Please adjust your records to reflect our new mailing address:
New England Newspaper and Press Association
P.O. Box 2505
Woburn, MA 01801-9998
There is no change to our staff's availability to help and answer your questions. Follow this link for our staff contact information.
If you have any questions, please don't hesitate to contact me.
Linda Conway
Executive Director
781-281-7648