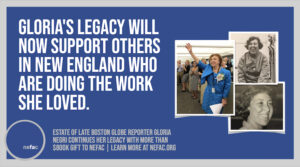 The New England First Amendment Coalition recently received the largest gift in the organization's history from the estate of Gloria Negri, the late trailblazing journalist at The Boston Globe.
Negri, who died in 2017, spent 53 years at the Globe working in several roles including columnist and foreign correspondent. The estate bequeathed $818,125 to the coalition for journalism education and programming.
The bequest will be used to support and grow NEFAC's current journalism education programs and services, such as the New England First Amendment Institute, NEFAC Mentors, and 30 Minute Skills. It will also be used to create additional much-needed resources for journalists and newsrooms in the region.