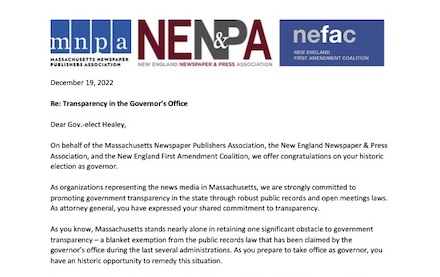 The New England First Amendment Coalition, Massachusetts Newspaper Publishers Association, and the New England Newspaper & Press Association called on Mass. Governor-Elect Maura Healey in a Dec. 19 letter to Healey to apply the state's public records law to the governor's office despite a blanket exemption claimed by the last several administrations.
"As a matter of public policy, there is no reason to give the governor's office a blanket exemption from the law. No doubt, there are certain documents within the governor's office that should be excluded from public view. But the existing exemptions to the public records law — such as those related to policy development and personal privacy — fully cover these situations and protect the governor's office to the same extent that they protect any other state or local official performing an executive function."
Massachusetts is one of only two states — Michigan the other — where the governor has a blanket exemption from the public records law, either by statute or through practice. That is true even though it is not clear that the Massachusetts legislature ever intended to create an exemption for the governor.
Read more at the New England First Amendment Coalition
On Dec. 20 Governor-elect Maura Healey committed to bringing more transparency to the corner office and also called for more transparency in the Legislature and the judiciary, bucking a decades-long trend set by governors and lawmakers alike in claiming they are exempt from public records laws.