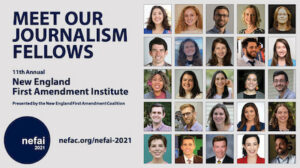 The New England First Amendment Coalition is pleased to announce the incoming class of fellows for its 2021 New England First Amendment Institute.
Now in its 11th year, the institute provides support and training for New England journalists to give them the tools they need to become more accomplished investigative reporters, well-versed in the freedom of information laws that govern today's difficult reporting landscape.
The institute — provided at no cost to those who attend — is Oct. 31 through Nov. 6 and features many of the country's elite reporters, editors and media attorneys.
NEFAI 2021 Fellows
CONNECTICUT
Verónica Del Valle
Hearst Connecticut
Currie Engel
Hearst Connecticut
Alex Putterman
Hartford Courant
Elizabeth Regan
The Day
MAINE
Lynda Clancy
Penobscot Bay Pilot
MASSACHUSETTS
Dugan Arnett
The Boston Globe
Greta Jochem
The Berkshire Eagle
Anastasia Lennon
New Bedford Light
Alex Newman
Patch
Emma Platoff
The Boston Globe
Tiana Woodard
The Boston Globe
NEW HAMPSHIRE
Julia Furukawa
N.H. Public Radio
Amanda Gokee
New Hampshire Bulletin
Cassidy Jensen
The Concord Monitor
Jordan Phelan
Eagle Times
Jack Rooney
Keene Sentinel
RHODE ISLAND
Jeremy Bernfeld
The Public's Radio
Lauren Clem
The Valley Breeze
Sarah Guernelli
WPRI-Providence
Rachel Nunes
Patch
Amy Russo
Providence Journal
VERMONT
Dom Amato
WCAX-Burlington
Jack Lyons
VT Digger
REGIONAL
Maya Ergas Shwayder
New England Public Media
Kyle Stucker
Gannett New England