Mother's Day 2020 is about as different as it can get with stay at home orders in place in most of the New England states.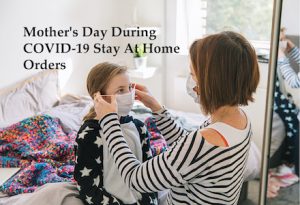 Celebrating will take new forms for many people. Virtual Zoom visits with mom will replace in-person visits. Going over will be driving by and chatting from the car or eating outside with mom while maintaining social distance.

This is where the New England states stand with stay at home orders, phased reopening's and Mother's Day stories from newspapers around New England.
Connecticut
The mandatory shutdown in the state was extended until May 20.
Connecticut Post
Connecticut restaurants offering special Mother's Day takeout
Hartford Courant
Coronavirus creates anxiety, new protocols for Connecticut moms giving birth during the pandemic
Maine
The state's stay-at-home order has been extended through through May 31, allowing some businesses to reopen on May 1.
Portland Press Herald
Mother's Day will be different this year in Maine
Bangor Daily News
Happy Mother's Day — Editorials
Massachusetts
The timeline for the closure of nonessential businesses has been extended to keep the physical workplaces and facilities closed to all workers, customers and the public until May 18.
Boston Herald
Massachusetts moms put patients first, serve on the front lines on Mother's Day
Boston Globe
A Mother's Day like no other
New Hampshire
A modified stay-at-home order was issued and is in effect until May 31. Barber shops, hair salons and retail shops can begin to open May 11 with restrictions on capacity and mask requirements.
New Hampshire Union Leader
Mom might need to settle on takeout or barbecue for special day
New Hampshire Magazine
Mother's Day Goodies and Gifts
Rhode Island
Statewide stay-at-home order expired May 8, and the state has begun Phase 1 of its reopening with strict restrictions remain in place for some businesses.
The Westerly Sun
Makeshift Mother's Day: Celebrating mom is a bit tricky in the time of the coronavirus
Providence Journal
Check it Out: 5 R.I. things to do for Mother's Day
Vermont
The stay at home order is in effect until May 15, but certain restrictions have been relaxed.
Burlington Free Press
(Un)Happy Mother's Day, mom! Here's some snow, cold temperatures and high winds
Seven Days Vermont
Retail Therapy: Where to Shop Locally for Mother's Day
Source for state stay at home orders: https://www.cnn.com/interactive/2020/us/states-reopen-coronavirus-trnd/