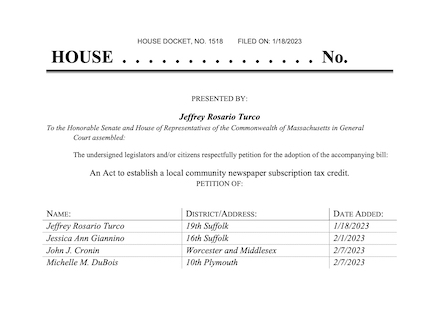 Earlier this week, NENPA spoke to Massachusetts State Representative Jeffrey Rosario Turco about the bill he introduced in mid-January which would institute a new tax credit reimbursing any Massachusetts resident up to $250 a year for the cost of subscribing to local newspapers. 
Turco, whose district covers Winthrop and Revere, said he was inspired to craft the bill after speaking with the leaders of the Revere Journal about some of the struggles their newspaper is facing.
In a Boston Globe article published this week, Turco said his hope is "that the bill would help to generate extra revenue for the state's newsrooms. You can get a subscription and effectively it's going to cost you nothing."  
The bill is based on similar efforts at the federal level such as the Local Journalism Sustainability Act which has stalled in Congress. That legislation would have instituted a tax credit for subscribers, a payroll tax credit for news organizations that compensate local journalists, and a tax credit for small businesses advertising in local news outlets.
Massachusetts publishers are encouraged to review the bill and, if you support it, contact your state representative.