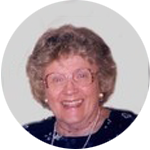 Margaret F. "Meg" (Perham) Johnson, 91, of Holden, Mass., died Nov. 15 at the home of one of her daughters in Holden.
After attending college, Johnson wrote for what is now the Telegram & Gazette of Worcester, Mass., then was editor of its women's section. She met her husband, Paul, there. He was a sports columnist and later became sports editor of the then-Worcester Telegram.
Johnson leaves four children, Gary, Paula, Stephen and Elizabeth; 12 grandchildren; six-great grandchildren; a sister.
The obituaries were written, at least in part, from published reports by Bulletin correspondents Ashleane Alabre, Sophie Cannon, Jenna Ciccotelli, Nico Hall, Joshua Leaston, Georgeanne Oliver, Julia Preszler and Thomas Ward, undergraduate students at Northeastern University.