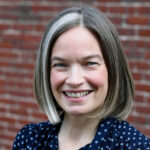 Kristen Oliveri is the vice president of communications and marketing at the New Hampshire Charitable Foundation. She leads all aspects of the Foundation's communications and marketing strategies including brand strategy and awareness, public relations and digital and print media.
Kristen is a Granite Stater, born, bred and schooled: She grew up in North Sutton, swimming and skating at Kezar Lake and learning to ski at King Ridge; she studied economics and political science at the University of New Hampshire's Whittemore School of Business and Economics (now the Peter T. Paul School of Business and Economics) and earned a Master's in Public Administration at UNH.
Kristen came to the Foundation in 2003 from the high-tech world — her interest spurred by a partnership between the Foundation and industry to increase the impact of charitable giving.
She is a member of the advisory committee for NH Gives, New Hampshire's signature 24-hour giving event created by the New Hampshire Center for Nonprofits, and a Leadership New Hampshire graduate, class of 2019.
Kristen lives in Manchester with her husband and daughter; most summer weekends find them packing up their trailer and camping gear and heading to the White Mountains or west to the Upper Valley.