By Alison Berstein
Bulletin correspondent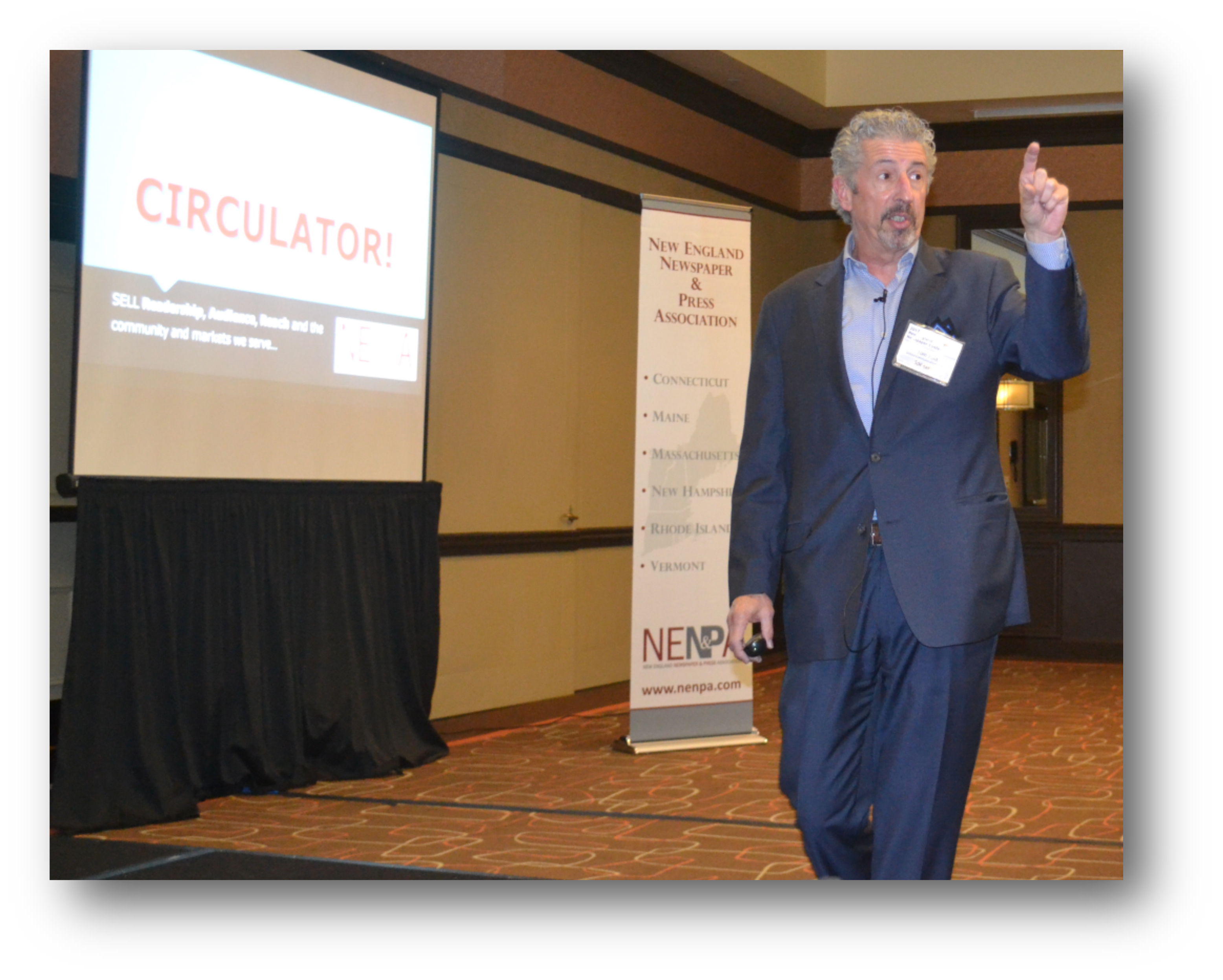 'If there's one thing you walk away with today: Am I communicating as broadly, openly, effectively, as I need to be?'

— Tom Yunt,
Chief operating officer,
United Communications Corporation,
Kenosha, Wis.
"I'm not convinced that we're dead, I'm not convinced that we're dying. I'm convinced we're in a very interesting transition in our lifespan," Tom Yunt told the audience at his keynote speech Oct. 12 at the New England Newspaper Conference.
During his speech, titled "The Newspaper sur-THRIVAL Guide," Yunt spoke about maintaining a good attitude in a shifting newspaper climate
"It involves change, and we all know how humans react to change," he said at the conference, held at the Crowne Plaza hotel in Natick, Mass. Yunt is chief operating officer of United Communications Corporation, based in Kenosha, Wis., which owns The Sun Chronicle of Attleboro, Mass., and the Foxboro (Mass.) Reporter.
Surviving – and thriving – as a newspaper also involves "a lot of soul-searching because that clock is ticking very, very fast," Yunt said.
"Yesterday the future began, so you've got to start changing today," he said.
Change starts at the local level, Yunt said.
"Let's look inside our own communities and companies," he said. "Are you creating a culture of performance, accountability, meeting the needs of your community? Are we really trying to shake up the status quo?
"If there's one thing you walk away with today: Am I communicating as broadly, openly, effectively, as I need to be?" Yunt said.
When asked by an audience member how to encourage that culture of communication, Yunt suggested creating an interdepartmental dialogue.
"Bring multiple departments into all-news meetings," he said. "Start with small groups, and then all-hands meetings.
"We've got to get into the mindset that we're not these departments and these silos; we're one homogeneous, cooperating, collaborating industry," he said.
This transparency among employees enhances not only a company's product but also the company itself, Yunt said.
"The best form of management is what I call management by walking around," he said. "If you want to know what's going on in your operation, talk to your line-level employees, closest to the challenges you're facing in your markets."
A successful company reaches out into the general community as well as internally, Yunt said.
"Really listen to your community," Yunt said.
He suggested that newspapers create reader advisory panels or send editors to Chamber of Commerce meetings to get feedback from local residents. "What keeps you awake at night?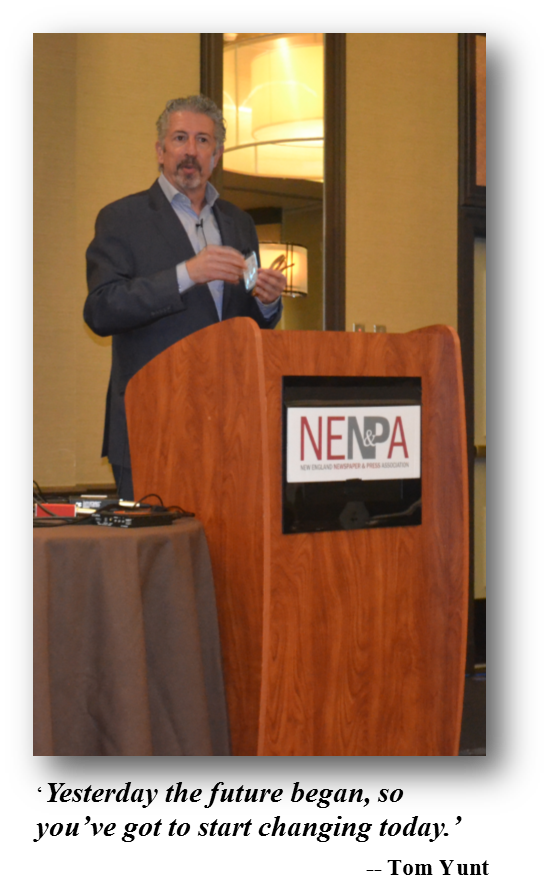 What do you like about us, not like?"
"We're still an industry that writes and edits papers for writers and editors. And we've got to
change that, big time," Yunt said. "How do you write a paper in the newsroom and not
engage the community?"
Yunt warned against the dangers of companies not being receptive to change.
"We have discovered the enemy, and this is us," he said.
"There's this old 'This is the way we've always done things in the past' mentality. That old concrete wall that existed; those days are over," he said. "We have to create an environment where everyone is working toward a common goal."
Yunt called this mentality "a going-out-of-business business philosophy."
"If any of you are walking through your newspaper plants and you hear one of two things: 'This is the way we've always done things in the past' and 'This is the way we've always done things around here' – I'm going to tell you right now that those two quotes are two of my biggest pet peeves," said Yunt, who entered the newspaper business in 1977.
Fostering a culture of open communication and open minds will help a company not only for the current era but also exponentially for the future, Yunt said.
"The problem is we tend to look historically backwards and not progressively forwards," he said.
"Here's the challenge I would say to each and every one of you: Let's talk about planning going forward," he said. "We've got to figure out how to build a sustainable business model, not only for 2018 but beyond. If you're not talking about succession planning in your company, shame on you."
To help move forward, a company should focus on content and revenue operations, Yunt said.
"I like to focus on the things I can control," he said. "Content in print, digital, mobile, email, Web. Revenue: advertising, digital circulation. Those are what most of us in this room need to focus on. That's going to be our win or our loss."
Another part of the strategy of planning for the future is finding a mentor for the company, Yunt said.
"Never ever, ever discount how important mentoring is to a culture and organization," he said.
"Who within your organization, and we all have those folks, has a great attitude and aptitude?" he said. "What could they do for us in a year from now, in three years from now? Who is going to back us?
"If they don't exist, how do we move forward?" he asked.
That investment in human resources is crucial for a newspaper's survival, Yunt said.
"The only reason I stand in front of you today is I worked for some companies that really believed in investing in their people," Yunt said. "I had some terrific mentors."
At the end of the day, that human connection is what drives a publication, Yunt said.
"The bottom line is, it should be local, local, local," he said. "How do we find a way to create enough bandwidth in our newsroom to decide what matters? Step back and ask our readers, our communities, our consumers, our advertisers and partners … 'What kind of content would you like to see in your local community newspaper?' "
"The two biggest assets we have are valued employees and customers," he said.
With a locally-driven framework, a company can stand up to giants of the industry, Yunt said.
"With every threat typically comes opportunities," he said. "How can we collectively and collaboratively work together to compete with the Amazons of the world? Create a series of discussions, talk to local retailers."
"Be unique. Local, local, local. Sell differently than your competitors. Last but not least, you have to absolutely love your customers," he said.
Yunt encouraged publications to embrace the unique traits of that publication and its community.
"What can you afford to do really, really well and better than others?" he asked.
He concluded with a message of hope for the audience:
"When you go back to your workplace tomorrow, if you can create an open environment where there are no walls, that is the environment you want to create."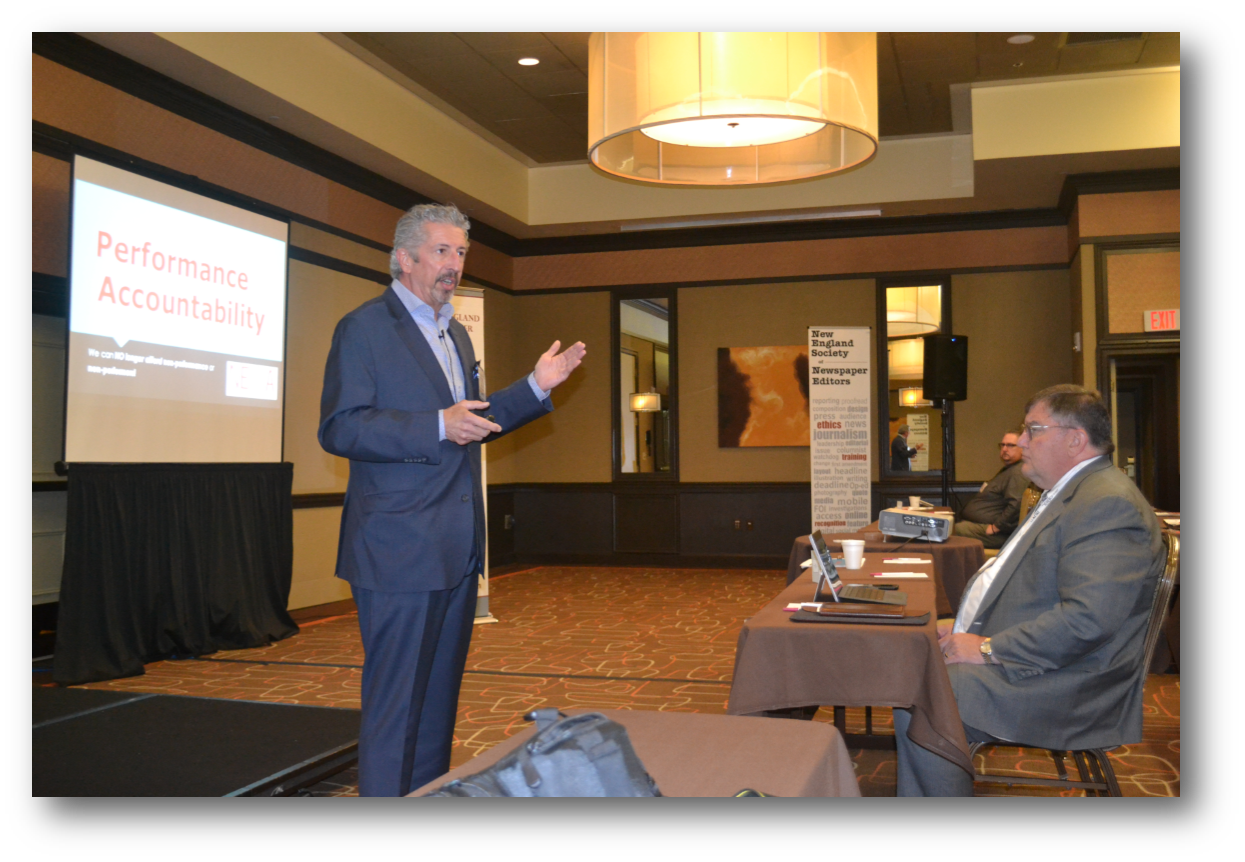 'Be unique. Local, local, local. Sell differently than your competitors. Last but not least, you have to absolutely love your customers.'    – Tom Yunt