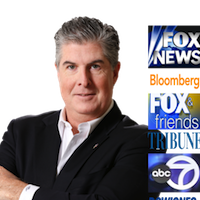 Kevin L. McCrudden is an international author, speaker and the only motivational and leadership speaker in American history to ever have a day of recognition passed by The United States Congress and New York State. He is the founder of National Motivation & Inspiration Day®, which was passed by The United States Congress after the tragic events of 9/11/2001. January 2nd is acknowledged as National Motivation & Inspiration Day® and, in New York State, January is Motivation & Inspiration Month® ! 
McCrudden studied soccer, Political Science and Journalism/Communication in college. He became a professional / semi-professional soccer player. Has worked in Government and politics and has been a candidate for political office. And has written eight (8) books, been on national and international TV and has hosted his own radio and TV shows. He was also publisher of his own soccer magazine and created the Long Island Soccer Player Hall of Fame.
He is currently a National Key Note Speaker, Business Consultant and Guest Lecturer at Amity Education Group, as well as an Entrepreneur and Executive Coach and "Millennial Mentor."
Kevin's media career actually started at 12 years old, when he became a newspaper delivery boy for his hometown newspaper, Newsday. In his media career, he has worked with representatives from over 2,000 newspapers and media companies all across North America where he conducted management, leadership and sales training programs. He established three (3) separate University Programs for Fortune 500 newspaper companies and created one of the first "Media Convergence Models" in America in 1998.
His book, "Who Are You? Become the Very Best You That You Can Be" introduces the most significant addition to Maslow's Hierarchy of Needs in 60 years and his 7 audiobooks have sold in over 30 countries around the world.
Kevin has appeared on Fox News, Fox & friends and ABC News in New York, as well as international radio and TV programs, in addition to being a TV and Radio Host.
He speaks on topics of Motivation, Inspiration, Management, Leadership, Emotional Intelligence, Sales, Sports, Soccer and maximizing performance to corporations, universities, students and athletes.