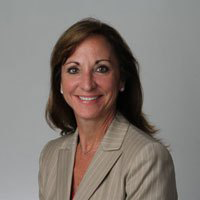 Karen Bordeleau, retired executive editor of The Providence Journal, is an award-winning journalist who now teaches editing and reporting courses both in the United States and abroad.
Bordeleau is the first woman in The Journal's 187-year history to hold the title of senior vice president and executive editor. She is responsible for shifting the newsroom into a "story-first" digital operation and is also credited with swinging
open the proverbial doors of The Providence Journal by introducing many audience engagement initiatives — among them the award-winning Publick Occurrences forums to promote civil discourse on complex topics. Under her leadership, The Journal has won numerous state, regional and national reporting awards.
Bordeleau began her journalism career when she was 17, writing a column about her fellow Prout students for the Pawtuxet Valley Daily Times. She eventually became the editor of two small daily papers and then joined The Providence Journal in 1996 as a copyeditor and special sections reporter. Within a few years, Bordeleau had climbed to management ranks, first as managing editor for both the print and digital operations, then as deputy executive editor and, ultimately, as executive editor.
Bordeleau has spent much of her career pushing for open records and open meetings in New England, particularly in Rhode Island. This year, she was presented with the Judith Brown Spirit of Journalism Award, given annually to one woman who has made a significant impact on journalism in New England. In 2014, she was honored with the Yankee Quill — the highest individual journalism honor in New England — which recognizes a lifetime contribution of excellence in the field. In that same year, she was also named one of Rhode Island's 30 Most Powerful Women by Rhode Island Monthly. In 2013, she was named one of the "Top 10 Women to Watch in the U.S. Media" by Editor; Publisher magazine. Bordeleau has organized and/or participated in many journalist exchange programs including those with Russia, Iran, Pakistan and Kenya. The mission of these exchanges and workshops is to share the principles of ethical and responsible journalism in countries with fledgling democracies and/or restrictive press laws. She has also taught news management, advanced reporting and ethics courses in Pakistan and Kenya.
Bordeleau served as a Pulitzer Prize juror in 2015 and 2016. She is a member of the board of directors for the New England First Amendment Coalition, the Metcalf Institute for Marine and Environmental Reporting, and the Women's Development Corporation. She is past president of both the New England Associated Press News Executives Association and the New England Society of Newspaper Editors.
Bordeleau serves as an adjunct professor of journalism at Emerson College and has also taught at Northeastern University, the University of Rhode Island and Bryant University.
Bordeleau holds a bachelor's degree in journalism cum laude from Northeastern University and a master's degree in political science summa cum laude from the University of Rhode Island. She was a Sulzberger fellow at Columbia University in 2011.