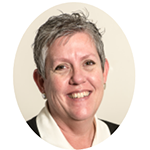 Join us in congratulating NENPA board member Judy Meyer on her upcoming induction into the Maine Press Association Hall of Fame. A well-deserved honor!
Meyer began working for the Sun Journal as a freelancer out of the Norway (Maine) bureau. In 1996, she was hired full-time to run that bureau and in April 2016, she was named the Sun Journal's executive editor.
Today, Meyer is responsible for overseeing the Sun Journal, the third-largest daily newspaper in Maine, as well as at a half-dozen weekly newspapers spread throughout Sun Media's western Maine coverage area. She also serves as executive editor of the central Maine dailies: Morning Sentinel and Kennebec Journal.
In addition to Meyer, MPA's Hall of Fame Committee has selected Dorothy "Dot" Roderick and Dieter Bradbury. They will all be inducted during the association's annual Fall Conference on October 23.