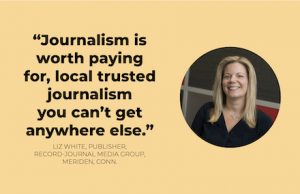 Community leaders from across the nation once again connected on September 24 for the Radically Rural summit, an annual gathering focused on the challenges facing America's small towns.
The Keene Sentinel and the Hannah Grimes Center for Entrepreneurship co-hosted the summit, now in its third year, which is normally held in venues throughout downtown Keene. Amid the pandemic, Thursday's sessions were held online, with 500 registrants tuning in from at least 40 states.
Six program tracks focused on sharing ideas around the advantages of rural communities: arts and culture, community journalism, entrepreneurship, Main Street, renewable energy, and land and community.
Read more By Olivia Belanger The Keene Sentinel
The community journalism track really delivered some great ideas and resources to keep newspapers and media companies moving forward.
Read the stories written by students from the Franklin Pierce University in Rindge, NH journalism program that appeared in a special section published in The Keene Sentinel.