On April 5 the News Leaders Association (NLA) announced the winners of the 2021 NLA Awards for distinguished journalism and leadership. The NLA Awards continue the long traditions of the previous ASNE and APME Awards and are among the most prestigious in journalism.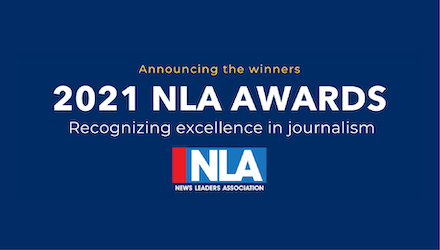 Jeneé Osterheldt of The Boston Globe won the Burl Osborne Editorial and Opinion Award, which recognizes editorial writing that is excellent journalism and makes a difference in a community. The award is sponsored by The Dallas Morning News in memory of Burl Osborne, former editor, president, and publisher of The Dallas Morning News.
Winning Work: Columns by Jeneé Osterheldt, The Boston Globe
From the judges: These columns explore America's complicated and often brutal relationship with race with a clarity that demands your attention. Osterheldt fearlessly tackled the deeply personal while also demonstrating an ability to step back and vividly contextualize the intersection of race and culture in our society. There were moments captured in these columns that were nothing less than devastating. A beautiful but powerful voice working at the height of her powers, showing her readers exactly why this moment matters.