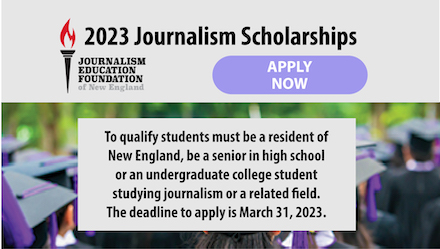 Once again this year, the Journalism Education Foundation of New England will award a number of scholarships to high school seniors and college students in our six-state region who plan to pursue a career in journalism. This is a wonderful program that encourages and supports those who will staff and lead our news organizations in the next generation.
Students from your area are eligible for these scholarships, but we need your help in spreading the word about this terrific opportunity!
During the course of the next month please consider running a brief article and/or some of the house ads that are available on the NENPA website (there are 2×2″ and 3×3″ versions) or by clicking the links at the bottom of this email. I've also included a brief press release about the program that you can run.
Interested students can apply online from our website. Also, please be sure to notify your staff members in case they have children who are following in their own footsteps toward a career in journalism.
The deadline for applications is March 31, 2023.
Thank you very much for your assistance with this. We're looking forward to helping some deserving students with their college expenses – hopefully at least one of them will be the son or daughter of one of your readers! Please don't hesitate to reach out if you need further information.
Best regards,
Executive Director
New England Newspaper & Press Association