By Alex Eng,
Bulletin Correspondent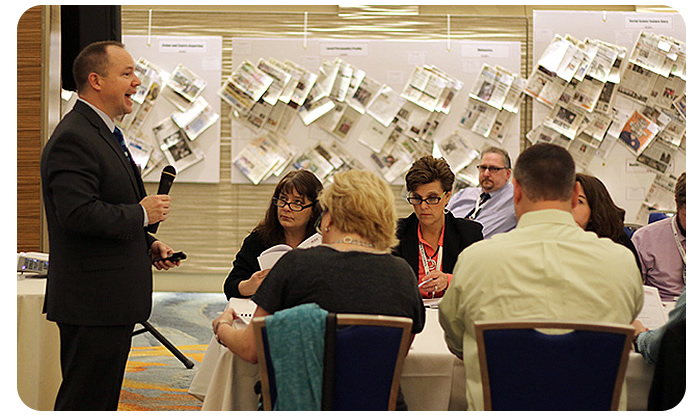 'We found, as a council, that while we're rapidly trying to grow our digital franchise, we're leaving our print franchise in the dust. We're ignoring those customers.'
—Mark French, Advertising director
The Republican, Springfield, Mass.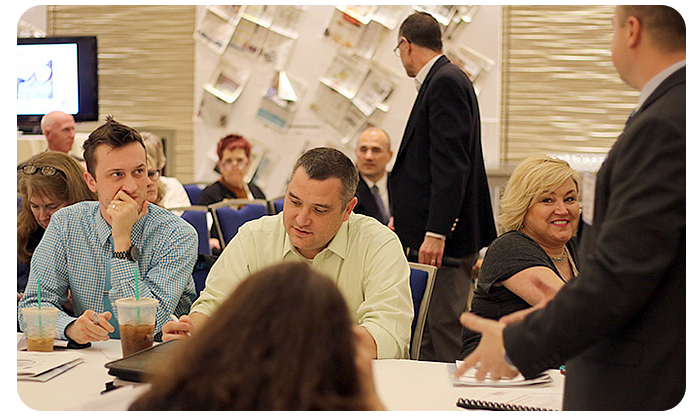 Mark French and his advertising colleagues conducted their presentation as a working, interactive session with their audience.
Local publishers and salespeople discussed new strategies to raise advertising and other revenue for local newspapers, at a discussion organized by the New England Newspaper and Press Association's Marketing and Advertising Council.
After soliciting ad and revenue-raising ideas from local newspapers since last fall, the Marketing and Advertising Council put together a "Thriving Not Surviving: Great Ideas Survey Results" booklet and used it as a basis for the discussion on new ad ideas for local newspapers.
The discussion, titled "Thrive; Don't Just Survive!", was led by Mark French, advertising director at The Republican of Springfield, Mass., and centered around new approaches to print newspaper ad sales amid the rise of digital content. The discussion took place at NENPA's winter convention in the Boston Marriott Long Wharf hotel.
"We found, as a council, that while we're rapidly trying to grow our digital franchise, we're leaving our print franchise in the dust," French said. "We're ignoring those customers."
French said print ad salespeople need to revisit their rates and product lines and to make sure that sales staffs are aware of all the different ad products their newspapers sell to clients.
The discussion, attended by about 70 people, included a few novel strategies that successfully led to increased ad revenue at various New England newspapers.
One strategy was reaching out to nonprofits and pitching ad sales as helping those organizations reach large audiences captured by local dailies and weeklies across the region in a way that could not be done by nonprofits alone.
For example, the Republican partnered with the Naismith Memorial Basketball Hall of Fame to run ads targeting local and professional basketball teams 125 days in advance of the Hall of Fame's celebration of the 125th anniversary of the invention of basketball by physical education instructor James Naismith in Springfield. French said the Republican took advantage of the paper's circulation to convince the nonprofit that partnering with the Republican would be less expensive and more useful in reaching a large audience than doing so itself.
French said that because nonprofits can apply for certain state and federal grants based on the nature of the services they provide, the nonprofits can obtain government aid to offset the cost of purchasing ad buys with newspapers.
"If you can get those funds with a nonprofit, and work out a program, then they can get state funds in return," French said.
French included that possibility when pitching the ad buy to the Basketball Hall of Fame, which brings in significant tourism revenue for the state. In the end, the Republican's Hall of Fame ad pitch paid off to the tune of $67,000.
French said ad salespeople need to improve the creativity of their product lines in addition to expanding those lines beyond the traditional quarter-, half-, or full-page print ads priced by the inch.
"You cannot approach your traditional print advertisements the way you used to 10, 20, or 30 years ago," French said, instead suggesting that papers offer fixed-price advertising packages.
He said ad rates, especially those that haven't been revisited by sales staffs in a while, are often too high.
Moreover, charging clients based on traditional rate cards is anachronistic, and papers should offer more updated ad packages, said Terry Carlisle, general manager of The Ellsworth (Maine) American.
"Rate cards are just ridiculous," Carlisle said.
The American switched from charging clients based on rate cards to offering clients all-inclusive ad packages of various price levels, charged monthly as opposed to per inch and per ad. For example, one monthly subscription-based ad package includes weekly print ads, a color ad once a month, and a 40-percent-off discount on special sections typically charged by section.
Simplifying the buy process made the purchasing process easier for clients, which actually allowed the paper to raise its prices, Carlisle said.
Another example of upgrading ad product lines is for papers to provide clients with more services beyond just publishing print ads or hosting ads on their websites.
Walter Coffey, director of digital sales at the Boston Herald, found a new way to approach tourism ads with diversified packages. The Herald recently promoted travel to Vermont heavily in its Travel and Road Trip sections, and advertised Vermont-made products such as hand-crafted wooden bowls and maple syrup as well as Vermont-based bed and breakfasts and other businesses. Coffey said the Herald is continuing to add new products to its ad lines, including social media campaigns and a question-and-answer session on the Herald's online radio station to discuss notable breweries, restaurants, and other tourist destinations in Vermont.
Those attending the discussion were given free copies of the "Thriving Not Surviving: Great Ideas Survey Results" booklet.
Some ideas proposed offering magazine-style sections to non-traditional advertisers, hosting local photo and giveaway contests, such as giving away teddy bears to customers visiting certain businesses on Valentine's Day, and promoting organizational anniversaries and events.
French said sales staffs, besides offering new types of products with new types of payment models, need to have a culture shift toward innovation and increased creativity in coming up with new products that entice clients to buy ads.
"One of the worst things that you can have in your organization is someone that's just hanging on," French said, referring to salespeople who have no desire to embrace new ways of selling new products. "Make sure with your organization that you promote this culture."
French said the best thing ad sales teams could do is to use creativity to devise attractive products and services for clients.
"Get really, really, creative," French said. "If you are creative, and you take that to the market, you will thrive."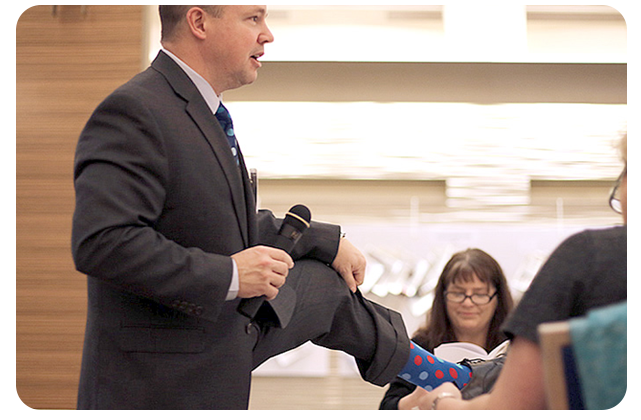 'Get really, really creative. If you are creative, and you take that to the market, you will thrive.'
—Mark French