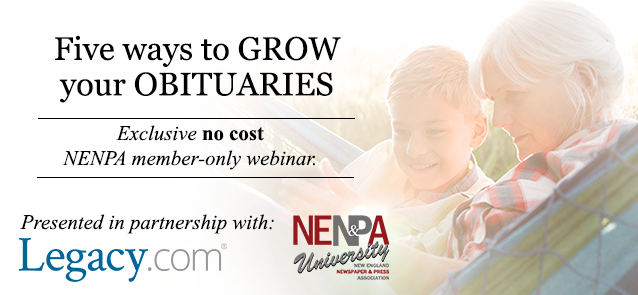 For most publishers, the obituary category is a huge traffic driver and an important classified revenue stream. To help our members learn more about this vital revenue category, NENPA has partnered with Legacy.com to offer a FREE webinar to help you grow your obituary category.
The webinar will be held on Wednesday, May 22nd from 2-3pm and will provide insights across the 1,500+ newspapers that work with Legacy.com and detail how they're starting to see a decline in obituary volume nationwide.
Whether you work with Legacy or not, this session is designed to provide you and your staff with useful info on issues related to obituaries along with ways to address them.
The webinar will be presented by Ron Speechley, who recently joined Legacy.com and works closely with their newspaper partners in an effort to maximize the obituary category. Prior to Legacy, Ron spent 20+ years working for SRDS (search engine for media) and built many relationships with newspapers across the country. Ron lives in Lockport, IL with his wife and four children.
For more information contact Christine Panek at 781.281.7284 or c.panek@nenpa.com.