The digital advertising world changes quickly. Is your sales team up to speed on the latest selling strategies?

Join America's Newspapers beginning September 16 for a special four-part sales training program developed specifically for sales managers and their teams.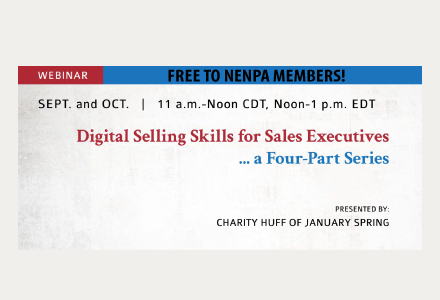 These sessions are free to America's Newspapers members, NENPA, and other state press association members.
Each one-hour session will focus on a selling skill to compete in today's competitive environment and provides the perfect opportunity for managers to engage with their team members and coach them to improve their digital sales knowledge and grow revenue.
Presented by Charity Huff, CEO of January Spring, and additional successful sales leaders.

Four Training Modules:
Jump Start Sales – Building Your Pipeline
September 16, 11 am CDT / Noon EDT
Pricing, Packaging and the Value of ROI
September 30, 11 am CDT / Noon EDT
Show, Don't Tell – The Power of the Case Study
October 14, 11 am CDT / Noon EDT
Audience, Audience, Audience
October 28, 11 am CDT / Noon EDT

By registering, you're eligible for all four sales training modules.
REGISTER NOW

It's recommended that you attend the training live to get the full benefit of the sessions and have the opportunity to ask questions. However, the training sessions will be recorded and available for viewing after the sessions are complete.
For registration questions, please contact Patty Slusher, director of programming, America's Newspapers, at 847-282-9850, ext. 102 or pslusher@newspapers.org.