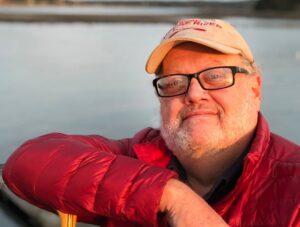 Former Mount Desert Islander editor Earl Brechlin will be inducted into the Maine Press Association Hall of Fame this October at a ceremony in the town where he built his journalism career.
Brechlin, along with Chris and Paula Roberts of The Lincoln County News, have been selected by the MPA's Hall of Fame Committee. The three will be inducted during a luncheon at this year's fall conference at Bar Harbor's Atlantic Oceanside Hotel and Event Center Oct. 22.
Brechlin's journalism career began in 1977 at the Bar Harbor Times. He got his start in the job shop hand-setting lead type. From there he went to the production darkroom, taking photos and writing a photo column. In 1981, he joined the newsroom staff as a reporter and was promoted to editor in 1983. Under his leadership the Times consistently earned general excellence press awards in Maine and New England.
In 2001, Brechlin, along with Ellsworth American publisher Alan Baker, founded a new, locally owned weekly newspaper on Mount Desert Island. With no reporters, no staff, no name and no design, the two got to work and the first edition of the Mount Desert Islander rolled off the presses six weeks later on Nov. 15, 2001.
Under Brechlin's leadership, the Islander earned first place among Maine small weeklies 12 out of its first 13 years, best in New England for several years and was honored by a first-place award from the National Newspaper Association.