Five deserving lifelong news professionals were honored by the Academy of New England Journalists / New England Society of News Editors at the 59th Annual Yankee Quill Awards dinner – closing out a successful NENPA Fall Conference at the AC Hotel in Worcester, Mass. on the evening of October 10.

John Peterson, Angelo Lynn, Dan Kennedy, Callie Crossley, and Ross Connelly were all in attendance. They were joined by family members, friends, and colleagues as well as the individuals (or designees) who nominated them.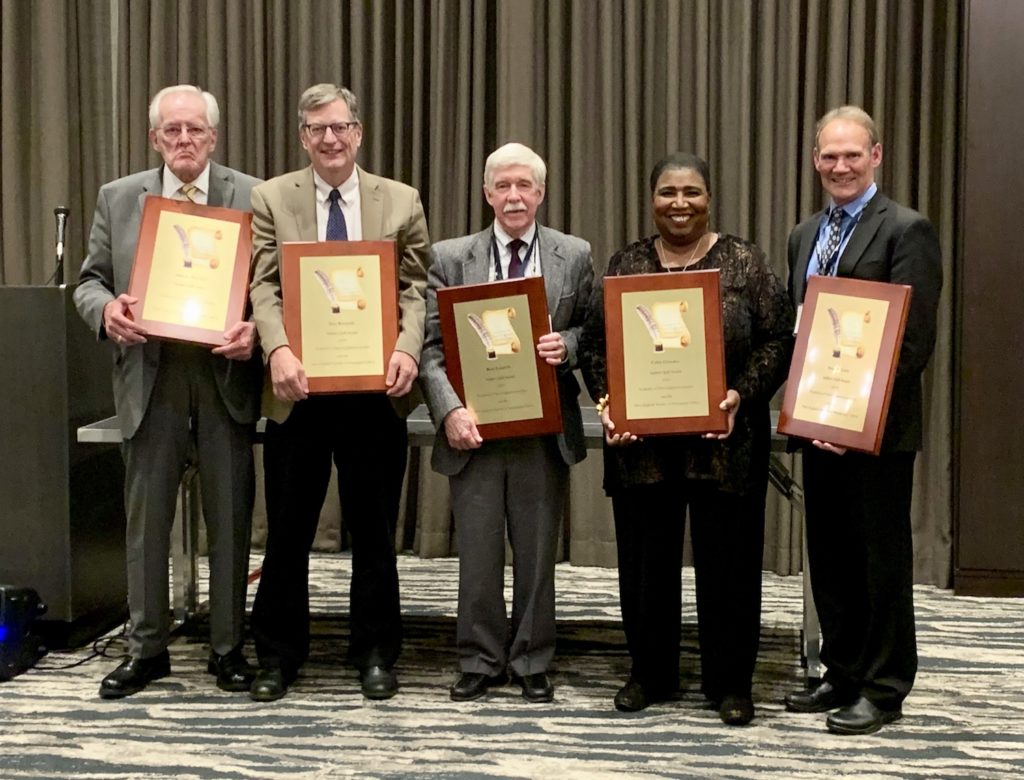 The Yankee Quill is presented annually by the Academy through the auspices of the New England Society of News Editors. The Academy, founded by Sigma Delta Chi in 1960, has annually paid tribute to several extraordinary newspaper men and women for their lifetime of achievement and distinction in New England journalism.

It is considered the highest individual honor awarded by fellow journalists in the region, and selection for the award is based on the broad influence for good that honorees have reflected over the course of a career.

Academy member Robert Ambrogi introduced Dan Kennedy, a journalist, media critic, journalism professor, blogger, book author and First Amendment advocate who has devoted the bulk of his career to improving the profession of journalism and to advocating for the First Amendment rights of journalists and the public.

"When I read the description of a [Yankee Quill honoree], it's hard for me to think of anybody more deserving of it than Dan Kennedy," Ambrogi said. "I am somebody who has been dividing my career between law and journalism, and so I have a particular appreciation for the work Dan has done over the years as an advocate for transparency in government."

Mr. Kennedy was nominated and received the Quill for his role in ensuring that journalists and publications adhere to the standards of the field; calling out politicians and officials who flaunt free speech and open government; training new generations of journalists and studying alternative models for meeting the challenges of journalism in the digital age.

Academy member Richard Lodge introduced Ms. Crossley, a respected journalist and commentator in greater Boston media. She was nominated and honored with one of the five 2019 Quill awards for her multifaceted skills in print, radio and television.

"Callie's writing and reporting have earned her numerous awards, and earned her the respect of leaders, viewers, and listeners," Lodge said. "She has never shied away from giving her well-informed opinions in the right context."

Through her various roles as host, panelist and award-winning commentator, Lodge said Ms. Crossley always set a standard for professionalism, accuracy and fairness. She is a highly regarded, compelling interviewer and role model. And her work was said to be grounded in a devotion to the community and dedicated to ensuring that community members who are often unheard – are given an articulate voice.

Academy member Mike Donoghue took to the microphone to introduce long-time colleague Ross Connolly, who was presented the Quill for his incredibly broad positive influence on journalism in Vermont, throughout New England, and across the nation. During his 36 years in the newspaper industry he served as a journalist, editor, publisher and newspaper owner.

"Even after serving on [various press association boards], he remained front and center on a lot of legislative issues impacting local newspapers, public records, fighting for mandatory fees when records were unlawfully withheld, open meetings, fighting proposed taxes on advertising, even taxes on circulation, and preserving legal notices in newspapers," Mr. Donoghue said.

Mr. Connolly was the founding chair of the Vermont Coalition for Open Government and president of the board of directors for both Vermont Press Association and New England Press Association. Mr. Donoghue also reminded attendees that Mr. Connolly's nomination reflected how much he understood early-on the importance and true value of diversity in news coverage, and he was known for pushing hard to make that a priority while serving on those boards.

Terry Williams of the Keene Sentinel introduced Mr. Lynn, who was recognized for his dedication to serving his readers and communities, his success with his dynamic newspaper company and his commitment to the betterment of the industry through his involvement with the Vermont Press Association and New England Newspaper and Press Association.

"When I think about the type of journalists we need these days, or for that matter, the type of owner we desire to sustain our news organizations, I think of someone bold, innovative, and adventurous, who cares for employees and is fiercely interested in the strength of community," Mr. Williams said, "I think of Angelo Lynn."

Over the course of his career, Mr. Lynn has been recognized with numerous journalism awards, as well as several awards for being a top business locally and statewide. He is regarded among his peers and associates as a journalist and newspaper owner who is constantly seeking sustainability while remaining fiercely protective of community journalism.
Academy member Lincoln McKie introduced Mr. Peterson. Over his 50-year career at New England newspapers and as a New England-based newspaper consultant Mr. Peterson was lauded for resuscitating several moribund papers into aggressive pursuers of both in-depth reporting and community news.

"I met my good friend John Peterson more than 20 years ago at a New England Press Association convention," McKie said. "I joined in nominating John because he is a friend, but more than that, his co-nominators and I put his name forward because of the tremendous respect and admiration we have for his character, for his superior journalism, and his penchant for deftly handling adversity, his gift for digging out award-winning stories and dismantling roadblocks to bring them to readers."

Mr. Peterson has won countless awards, both individually and for the excellence of the newspapers he led. As a consultant, he lends his vast experience and expertise to improving newspapers throughout the country. And he was also very active serving on a variety of business and charitable boards – and has been honored locally for his many years of community service.

Following the Quill ceremonies, NENPA President Phil Camp remarked "how nice it was to see a couple of Vermonters represented among all the very worthy recipients this year."

"This year's Yankee Quill recipients also represented Connecticut and Massachusetts, so both Southern and Northern New England were represented," Camp added. "As in years' past, the comments from both the nominees and those who nominated them reflect how these individuals have answered their calling to our profession. To do the kind of good you need to do – even with smaller papers – is a testament to all of their accomplishments."
2019 Yankee Quill Awards Photo Gallery
By John Voket eBulletin Contributor
John Voket is an Associate Editor at The Newtown Bee in Connecticut, Director of Public Affairs for Connecticut's Connoisseur Media radio stations, and 2018-19 President of NENPA.