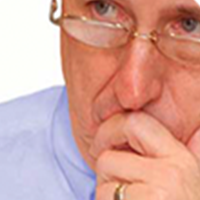 ED HENNINGER has been an independent newspaper consultant since 1989 and is the Director of Henninger Consulting in Rock Hill, SC. He is universally recognized as the world's leading design consultant for community newspapers.
The Southampton Press, one of Ed's redesign clients, has been named the Best Community Newspaper in the nation by the National Newspaper Association. From the judges: "Spectacular package of information—news, features, photos, ads—all excellently produced. Clean, fresh design, layout throughout. Great No. 1 in a strong field."
The Western Catholic Reporter, a Henninger Consulting client, was named the best
designed church paper in all of Canada by Canadian Church Press. The judge said The
Western Catholic Reporter had "a sophisticated presentation of news through images,
design and typography. Every page is a surprise, interesting in its treatment, complex
in design, yet easy to read." The Western Catholic Reporter, he said, is "a paper to be
proud of."
He recently completed redesigns of the Cullman Daily Times in Cullman, AL; the
Spencer Evening World in Spencer, IN; The Clay County News in Sutton, NE; the
Madelia Times-Messenger in Madelia, MN; and the Holyoke Enterprise in Holyoke, CO
Ed has traveled to the Ukraine, the Republic of Georgia and Armenia to offer design
workshops and assist with redesigns of several newspapers in those countries.
He created the Francis A. Henninger Grant Program with the goal of making newspaper
design services affordable for every newspaper—especially those with limited
circulation, revenue and staff size. It's Ed's effort to reach out to those publishers and
editors who believe their newspapers can't receive professional design help. Ultimately,
the objective is to bring a new level of design, direction and distinction to those papers
that qualify.
Major seminars and workshops at which Ed has spoken:
Institute for Newspaper Technology: Design workshop, 2012-2016.
North Dakota Press Assn.: Design workshop, 2010, "A License to Print Money," 2012.
Catholic Press Assn.: Design workshop, 2008, 2010, 2012, 2013.
New England Nesspaper and Press Assn.: Design seminar and workshops, 2012-2017.
Kentucky Press Assn.: 2012, 2013, 2014, 2017.
His column on newspaper design appears regularly in Publishers' Auxiliary, the
publication of the National Newspaper Assn. His column also appears in the bulletin of
the Southern Newspaper Publishers Assn. as well as newsletters of press organizations
throughout the U.S. and Canada. It is also distributed free to subscribers worldwide.