By Matt Tota, Bulletin Staff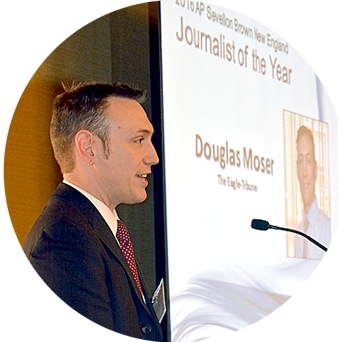 'I'd like to urge all of you — I know resources are tight and newsrooms are stretched thin — just to take a little bit of time to try to get a reporter out for a few days, for a few weeks, to do work like this; it's really tough, but it's still important.'
— Douglas Moser, Investigative reporter,
Eagle Tribune, North Andover, Mass.
Douglas Moser, an investigative reporter for The Eagle-Tribune of North Andover, Mass., wanted a way to prove that one public official was doing very little to earn his six-figure taxpayer-paid salary.
So, Moser went back to basics: He put in hours of surveillance shadowing the official to watch and record the questionable work habits for himself. The investigation spanned six months, eventually exposing how the Northern Essex register of deeds was collecting nearly $110,000 a year for fewer than four hours of work a day.
Moser was one of more than 20 newspapers or news organizations and at least as many journalists who work for them who earned either individual honors or were recognized as New England Newspapers of the Year or with Publick Occurrences Awards. The honors were bestowed during the New England Newspaper Conference awards luncheon Thursday, Oct. 6, in the Crowne Plaza hotel in Natick, Mass.
Moser and other individual award winners received praise for their dogged pursuits of accountability and transparency.
Moser was recognized as the AP Sevellon Brown New England Journalist of the Year. Edward Achorn, editorial page editor of The Providence (R.I.) Journal, received this year's Allan B. Rogers Editorial Award. Stanley Moulton, online managing editor and internship coordinator of the Daily Hampshire Gazette, received the Bob Wallack Community Journalism Award. The Sun Journal of Lewiston, Maine, took home the Morley L. Piper First Amendment Award.
"I especially thank my editors for giving me the leash to run amok for weeks at a time over the course of this project," Moser said in accepting his award.
To the many editors in the room, he said: "I'd like to urge all of you – I know resources are tight and newsrooms are stretched thin – just to take a little bit of time to try to get a reporter out for a few days, for a few weeks, to do work like this; it's really tough, but it's still important."
Morley Piper, former longtime executive director of the then-New England Newspaper Association, presented the award named in his honor to the Sun Journal for its fight to keep records of dismissed criminal cases public, calling the Sun Journal's effort "an exemplary example of First Amendment defense." The Sun Journal tracked in a story how it assembled a coalition of news media organizations and First Amendment advocates to prevent the Maine court system from sealing those records.
"It was a beautiful illustration of the press performing its watchdog function," Piper said.
Achorn received his award for his Sunday edition editorial, "A fraud, a farce, a dog-and-pony show," in which he criticized Rhode Island's community service grants. He lambasted the state's House speaker and called out individual legislators by name – and provided their telephone numbers. The piece, part of which appeared on the Journal's front page, prompted the legislature to cut the program in half, from nearly $12 million to $6 million.
Later at the conference, Achorn was one of four journalists to receive a Yankee Quill Award from the Academy of New England Journalists. The Providence Journal was also named the New England Newspaper of the Year for weekday publications with a circulation of 35,000 or more.
Moulton, in accepting the Bob Wallack Community Journalism Award, which recognizes journalists for their commitment to community journalism, credited his success in part to working under dedicated publishers.
"Those were all publishing families who were deeply rooted in their communities and who also understood the value of a vigorous journalism that really contributed to the health and the fabric of that community," he said.
Moulton, who has been a reporter and editor at the Daily Hampshire Gazette for 40 years, said those veteran journalists like him in a position to mentor young reporters should stress the importance of community journalism – "shining a light where it's necessary, giving voice to the voiceless, and engaging our readers in the conversation and debate that really elevates a well-informed citizen."
Before announcing the AP Sevellon Brown New England Journalist of the Year, Richard Lodge, president of the New England Society of News Editors, paid tribute to Bill Malinowski, the former Providence Journal reporter who won the Sevellon Brown award in 2014. Malinowski died in August – 16 months after being diagnosed with amyotrophic lateral sclerosis (ALS), also known as Lou Gehrig's disease. Malinowski was 57.
Lodge requested a moment of silence for Malinowski and all New England journalists who died in the past year.
About 170 people attended the luncheon and awards ceremony.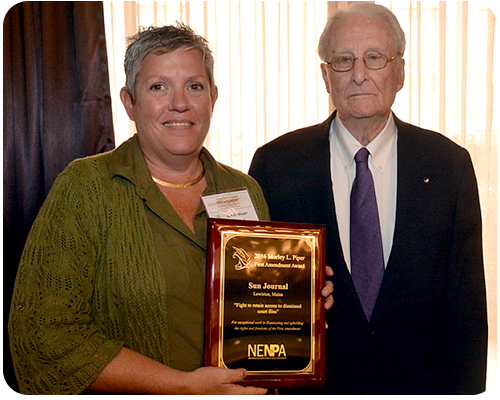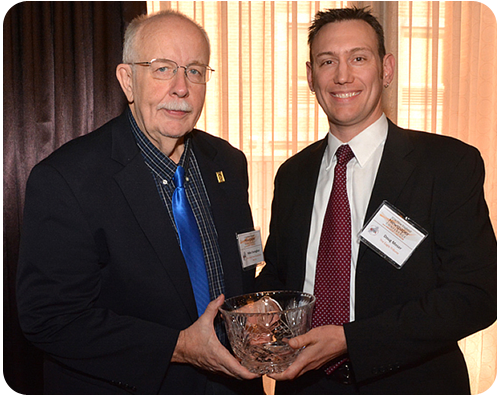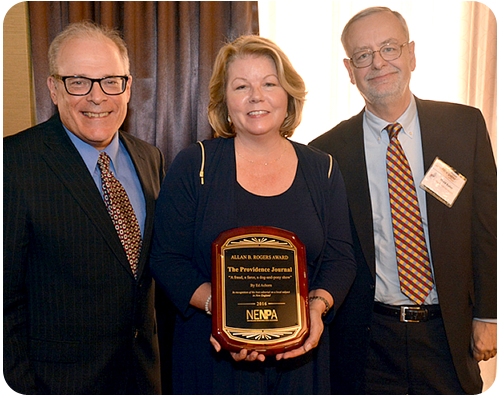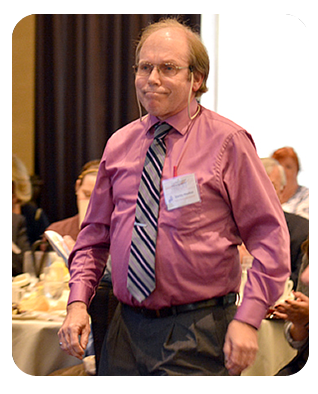 Stanley Moulton, online managing editor and internship coordinator at the Daily Hampshire Gazette of Northampton, Mass., steps up amid applause to accept the Bob Wallack Community Journalism Award.