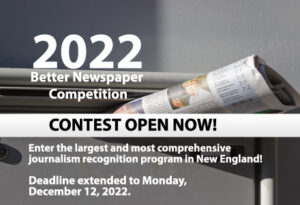 We have received so many requests for an extension this week that we are extending the deadline to enter the Better Newspaper Competition until Monday, December 12.
This gives you an extra 10 days to prepare your entries and it is after the upcoming New England Newspaper Conference on December 8. Learn more about the program, featuring discussions with nationally known experts about the state and future of the industry, and register for the conference at this link.
Reminder – the association code to access the contest portal is NENPA and you'll need to register for the platform even though you may have been registered last year (the system gets wiped clean between contests.) Also, both the email and password fields are case-sensitive.
Link to contest platform:
Download the information packets and you will find all of the information necessary to prepare your entries, including a list of competitive categories, complete rules and guidelines, and the criteria that each contest category will be judged upon.
You can find additional information on preparing entries – such as how to make PDF files smaller, extract particular pages, and how-to combine several PDF files – on the Frequently Asked Questions page at the end of the packets.
Awards will be presented during the annual New England Newspaper Convention, which will be held in Spring 2023 (date and location to be announced).
New categories for 2022 include Best Website Home Page and Energy Reporting, and a few categories have been modified (see detailed categories).
We encourage you to participate in this year's Better Newspaper Competition, the largest and most comprehensive journalism recognition program in New England, to show off your best work, reward and recognize your staff, and share ideas so we can learn from each other!
The new deadline to submit entries is on Monday, December 12, 2022.
For further information please contact Linda Conway, at l.conway@nenpa.com.