John Voket | eBulletin Contributor | January 13, 2020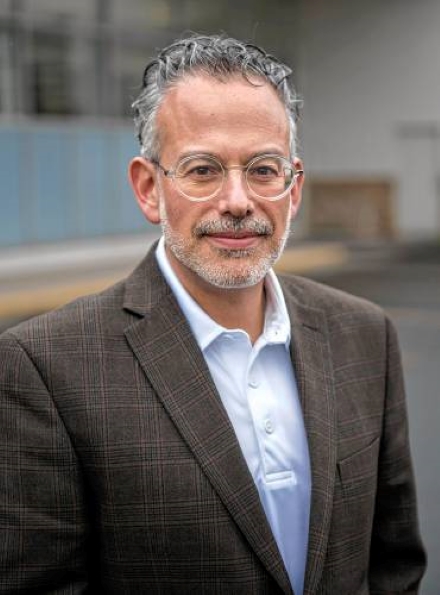 Northampton, MA – With an inviting and evocative new masthead illustrating a couple of southern New England villages straddling a river and linked by a bridge, the Daily Hampshire Gazette has decisively executed a unique new staffing plan to better bridge its reporters into local communities the newspaper serves.

And according to Publisher Michael Moses, who spoke recently to the NENPA eBulletin, it all started with freshening up the brand.
"For the first time in our 232-year history we commissioned a local artist to design a nameplate reflective of the communities we serve," Moses said.

But he said the Gazette's new look also mirrors a whole new attitude at the regional news organization, a Newspapers of New England subsidiary that also publishes the Greenfield Recorder, Athol Daily News, Hampshire Life, Amherst Bulletin, and Valley Advocate, among others.

Moses said he hopes the Gazette's expanding and refocused commitment to local readers and advertisers will "help dispel the rumors of the death of print."

"We have been staffing up in our newsroom, we've reorganized our beats, and [just started] covering Holyoke as well," he said.

Moses said one of the things that's been keeping him up at night has been the gradual shrinking of local news agencies, not only across southern Massachusetts but across the nation. He agreed that independent journalistic oversight of local government matters is a critical public service – one he is aiming to see sustained at the Gazette for a long time.

"There's a relationship between the wacky world we're living in right now, and folks waking up every day and saying, 'hang on, we need these local papers reporting out what's going on in our community' – probably more than ever."

Moses said the process of redirecting the Gazette's course started with a "visioning committee" – a group of company leaders who met for several months determining what would be most impactful to readers and advertisers, while contributing to a stable business model.

The visioning committee's work happened to play out while Moses was conducting his 'Coffee With The Publisher' initiative.

"I'd hang out at one of the local coffee shops and just chat – incredibly valuable by the way – on both ends," he said. "I gained some valuable insights that I probably wouldn't normally get." Moses said the series of coffee chats also acted as a "grassroots effort" that "got folks talking, and talking about how we're present for them, and we're listening."

Covering The Right Things

One of the ideas Moses picked up from those reader engagement sessions that he was able to turn around quickly, was reconfiguring areas of coverage – "getting the reporters on the beats that mattered most to the communities we cover – and covering the right things."

"We believe their passion, and getting them into the right places will translate into [improved] production and quality of writing," Moses said of his front line reporters.

The process of initiating the Gazette's new course commenced after just three months of vision committee deliberations, he added, and involved designing a fresh new masthead.

Moses said the newspaper commissioned local artist Bob Marstall to design the new imaging, and "magically he came back with exactly what we had in our heads – on first try he was very close to what we were looking for and after [a few] more passes, we had it."

Then there was the prospect of reconfiguring beats.

"I've always felt pretty strongly about how our newsgathering is structured," Moses said.

"When I look ahead five years from now – with the right platforms, delivery, and pricing – folks are still going to depend most on the content they are paying for to begin with."

He said it was not about maintaining what the Gazette had done in the past, but producing more locally generated stories by journalists "out on the street reporting the news."

By coincidence, Moses said routine staffing vacancies and other circumstances positioned the Gazette to increase those reporting positions "without adding more FTEs. It's an evolution of our news staff with fewer editors and more reporters."

A 'Perfect Fit'

That staffing readjustment resulted in four additional reporters including a new Holyoke bureau staffer who Moses said is dedicated, bi-lingual, and knows the community well.

'"It was a perfect fit for what we saw we needed in that market," he said. "It was a really important move if we were going to serve the Holyoke community."

He said in short order, both print and online subscriber goals were being exceeded.

"We're on-track to have some really big success in that community. There are other players there, but the letters we're getting, and emails I'm getting are proof we're making an impression in that new market."

True to his prediction, Moses said ROI from the Gazette's staffing shift has already generated "a 20 percent boost in reporters' story production – that's in just about two months. And the reader response has been tremendous."

"We brought back a cops and courts beat, which had been gone since before I came here – we reorganized our [Gazette] features department into more of a features hub that serves all our publications here, and we built that features team out around that effort," Moses said.

And he even committed to adding back one key editor position.

"We brought back the calendar editor position after not having one for three years," he said. "A few years ago that may have been a position that was easy to cut – but today I think it's so critical to our readership, so we brought this position back."

The move, Moses said, was the final and most recent piece of the current local re-engagement and refocusing effort for now at the Gazette. And he's looking forward to studying web analytics in the coming months to validate what he believes will be a spike in online calendar views.

Moses said more than anything he likes the renewed energy he's feeling as a result of his reporters' re-engagement in local communities.

"Without exception, it has been a 100 percent positive experience. And I don't have to tell you, in our world, we don't get many opportunities to share successes," Moses said. "We're challenged like everyone else, but we're getting out in front of the decline [our industry] is experiencing with some important new changes. Now we're just watching for them to take hold."
John Voket is an Associate Editor at The Newtown Bee in Connecticut, Director of Public Affairs for Connecticut's Connoisseur Media radio stations, and 2018-19 President of NENPA.