Connecticut Attorney General William Tong expressed his concerns in a January 14 letter to Alden Global Capital about their plans to buy Tribune Publishing, including the Hartford Courant, America's oldest continuously published newspaper.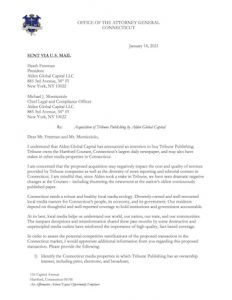 Tong uses the recent example of the closing of the Courant newsroom since Alden took a stake in Tribune Publishing and the need for Connecticut citizens to have a "healthy local media ecology."
"I am concerned that the proposed acquisition may negatively impact the cost and quality of services provided by Tribune companies as well as the diversity of news reporting and editorial content in Connecticut. I am mindful that, since Alden took a stake in Tribune, we have seen dramatic negative changes at the Courant – including shuttering the newsroom at the nation's oldest continuously published paper.
Connecticut needs a robust and healthy local media ecology. Diversely-owned and well-resourced local media matters for Connecticut's people, its economy, and its government. Our residents depend on thoughtful and well-reported coverage to hold institutions and government accountable."