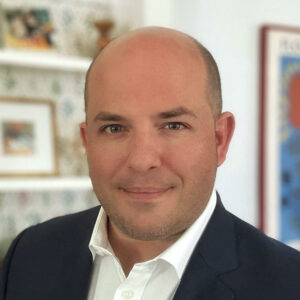 During the New England Newspaper Conference on October 19, Brian Stelter apologized for starting his address by complaining about his recent interaction with The Des Moines Register.  Stelter, the author and media columnist who has worked with The New York Times and CNN, said he wanted conference attendees to know how difficult it is to stop a subscription – and how that affects readers' perception of their news organizations.
In preparing to cover the presidential campaign in Iowa, Stelter subscribed to The Des Moines Register for a week or two.  (A six-month subscription cost $1.)  But when he tried to cancel the subscription a week or two later, it turned into an ordeal.  You've got to call the newspaper, he said – you can't cancel online.  And then he had to talk with a service rep who transferred him to a manager so he could repeat his story that he no longer needed the newspaper. Yes, newspapers want to try to keep subscribers from leaving, Stelter said, but the whole process was miserable. Stopping a Netflix subscription is much easier, he said – and it leaves you with a much better feeling about their company.  You're more likely to subscribe again.
Here's the thing:  Stelter's a big fan of his local papers in Hunterdon County, N.J., especially for the local-local information that's not in the big metro papers – things like where to take his kids on weekends, what events have been canceled, what's happening at local schools.  Too often, he said, Facebook is now doing what local papers once did, especially on breaking news – sending text alerts to tell people where the firetrucks are going right now, or where the streets are closed because of a gas main leak.   There's a real opportunity at the neighborhood level, he suggested.
In the Q and A, Stelter kept the discussion on this issue of engagement.  Participants agreed that readers want to talk to the paper.  When the editor of the Waterbury Republican-American asked readers for their opinion of how the newspaper was doing, 300 people responded, William Pape said.  And his newspaper is now inviting readers to submit questions they would like mayoral candidates to answer at an upcoming debate the paper is sponsoring.
Another conference-goer asked Stelter what else newspapers could do to encourage interaction with readers, citing a recent CJR feature, "The Interview: Jeff Jarvis on what the magazine was."  In that interview, Jarvis said that when media moved online, they often just posted content, and let readers comment.  They were unwilling to engage readers in a dialogue about the news and their opinions.
Stelter listed several ideas on what news media could do differently to engage readers.
Be reachable

.  List the reporter's email address below their byline.  Stelter does it himself all the time –

bstelter@gmail.com

Teach readers about media literacy

– how media do their work.  When we teach them what we are (and what we're not), we help them gain trust.  For example, we're not a community bulletin board: we don't print anonymous complaints, the way social media sites do.  A "Note from the Publisher" can help readers understand our mission.

The battle for trust is a constant battle

:  you gain a few yards every day, and you lose a few yards when you make mistakes.  Asked what media people trust, Stelter pointed to the New York Times – but he admitted they're in a class by themselves.  He applauded Tegna (Gannett's TV group) for their "Verify" feature.  It shows viewers that the TV stations are on their side, Stelter said.

Show people who you are.

  You're their neighbors; you live where they do.  Add reporters' emails and their photos.  Conduct web chats.  Use text messaging to alert people when there's trouble.  Conduct neighborhood chats during local emergencies so people can share where they're seeing flooding, for example.  Use more "push" emails, since readers still welcome relevant content in their inbox.

Build community. 

Help people overcome social isolation by connecting them to neighbors.  Couldn't newspapers build "neighbors" social platforms for specific sections of their cities and regions?  Show them you're not the big, stand-offish metro paper.

Prevent charges of bias

by running longer articles that report on all sides of an issue.   Print the full story, giving the broad spectrum of opinions on book banning or gender issues.  Don't cut stories short now that we have space online. "The more people you quote, the more people feel heard," he said.

Use Facebook

, since Facebook is where many people turn to for local news.

Give a free, six-month subscription

to new homeowners, one conference-goer suggested. Stelter endorsed that idea.

Recognize that everyone trusts some source

for news and information. It's just a fact that you've got to get your information somewhere so you've got to trust someone. People who turn to conservative media clearly

trust

Fox Sean Hannity or Alex Jones. Our job is to get them to trust reality-based media, Stelter said.
Credit: Written for the eBulletin by Bill Hoelzel