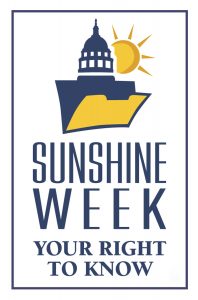 As journalists, we rely on open government and freedom of information principles to keep the public informed about their government. Too often, though, we are met with roadblocks. Indeed, a recent Boston Globe editorial stated that when it comes to access to public records in Massachusetts "think thick dark clouds – not sunshine. This is the only state in the nation where the Legislature, judiciary, and governor's office all claim to be exempt from state public records laws."
The New England Newspaper and Press Association and the Boston Globe are working together to encourage newspapers across every state to run an editorial on the importance of open government.
With Sunshine Week coming up in March, we invite you to hold our government leaders and agencies accountable by writing your own editorials on the importance of open government.
Please join us in raising our collective voice for transparency and access to public information, and what it means for your readers and community.
This is a call for action on the importance of open government. Please publish an editorial during Sunshine Week, March 15-21.

Click here for a terrific example published by the Telegram & Gazette in Worcester.
Let us know that you'll be participating:
We'll collect all editorials submitted and we'll share links to access all of them.
Contact Linda Conway at l.conway@nenpa.com or 781-281-7648 with any questions.
S
Sunshine Week is brought to you by the News Leaders Association and Reporters Committee for Freedom of the Press. With generous support from John S. and James L. Knight Foundation and The Gridiron Club and Foundation.
Submit links and PDF's of your editorial to Tara Cleary at t.cleary@nenpa.com.