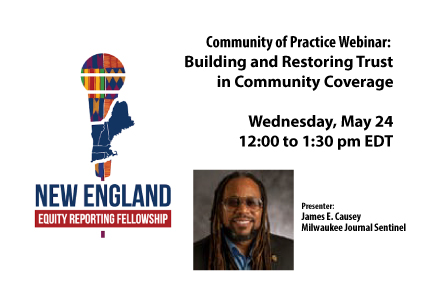 Join the New England Equity Reporting Fellowship program for a Community of Practice webinar event about building and restoring trust, particularly in communities of color and with sources of differing race, gender, and identities. The webinar is free and open to all practicing journalists in New England.
Building and Restoring Trust in Community Coverage Webinar
Wednesday, May 24, 12:00-1:30 pm EDT
What is the difference between reporting on a community and reporting for a community? Building and restoring trust, within these communities, is a journalistic skill for credible reporting and the reputation of your news outlet. How does a reporter go beyond defining a community solely by its challenges and move to a narrative that highlights community strengths?
Join James E. Causey of the Milwaukee Journal Sentinel and learn techniques to foster relationships that lead to engaging coverage. Take away practical tips that can help forge relationships and trust in the communities you cover while building content expertise and the foundation for ongoing community engagement.
If you have any questions or difficulty registering, please contact Tara Cleary at t.cleary@nenpa.com.
About the New England Equity Reporting Fellowship:
The program was created in 2021 by the Granite State News Collaborative, New England News Collaborative, New England Newspaper & Press Association, and Solutions Journalism Network, with support from the Endowment for Health. The program aims to improve news reporting and coverage on issues of race and identity and to create an inclusive newsroom culture for participating journalists and newsrooms.