By Debora Almeida, Bulletin Staff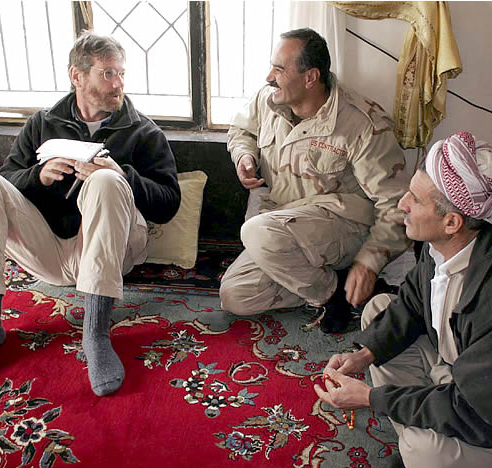 'Bill Nemitz, at left, interviews an iraqi military officer and a village elder in a village near the northern iraq city of erbil in December 2004.'
Bill Nemitz, 61, a columnist at the Portland (Maine) Press Herald, made three trips to Iraq and two to Afghanistan to cover wars there. Two of those trips, one in each country, Nemitz will never forget.
Nemitz made his first two trips to Mosul, Iraq, in April and December 2004.
On Dec. 21, 2004, Nemitz and his colleague, Gregory Rec, a photographer for the Press Herald, skipped breakfast and went right to work so they could get most of their assignments done by lunchtime. When noon arrived, Rec, although hungry, decided to take a 15- to 20-minute nap while Nemitz finished some leftover work to pass the time. Those 15 minutes were enough to save their lives. During that time, a suicide bomber disguised as an Iraqi National Guard soldier killed four U.S. soldiers, four American civilians and four Iraqi soldiers inside a food pantry in the dining hall where they were planning to eat lunch, in Calais, Iraq.
When Rec and Nemitz bent down to lace up their boots and get ready for lunch, the explosion took place less than a quarter-mile away. The proximity of the explosion caused Nemitz to fall from his chair.
"If Greg hadn't taken that nap, we would have been in the food line or eating our lunch in the dining hall," Nemitz said. "His nap literally saved my life."
Of the four U.S. soldiers killed, two were Maine National Guard soldiers. It was the first time Maine National Guard soldiers had died in a war zone since World War II.
"This was the biggest suicide attack on the U.S. troops throughout the entire Iraq war, which took over and dominated everything anybody did for the remainder of the trip," Nemitz said. "The next few days were a complete blur."
Nemitz kept thinking that he would never go back after experiencing such a life-threatening incident during his second trip. But that quickly changed once he understood what he really appreciated about war reporting, which was how easy it was to throw yourself into the situation and that you can't stay away for too long.
"Adrenaline is pumping at all times, and you literally never know what's going to happen in the next minute," he said.
He said the experience could be boring for several days, but then, all hell can break loose.
"It's a challenge, it really is; trust me," Nemitz said.
Nemitz frequently had second thoughts and regrets, especially during his first trip to Kabul, Afghanistan, in January 2010, when he traveled alone with soldiers, with no photographer by his side. He had to do all the writing, editing, video, sound, and photos by himself as a "backpack journalist."
After landing, he took a cab from the airport in Kabul on his own to a military base.
"Even a 15-minute cab ride alone was not considered safe due to common crimes such as kidnapping and murder," he said.
Later, all the soldiers received their belongings. But Nemitz' backpack, which contained all of his equipment and winter clothing, did not arrive, so he had to suffer through a freezing cold night without a winter jacket. At that moment, he recalled thinking that he had made a mistake coming back to a war zone.
"I was literally shivering, thinking that my stuff must be permanently lost, and that's when the regret started to sink in," Nemitz said.
He went back to the airport the next morning in search of his lost backpack. He had to pass through nine safety checkpoints just to get inside to talk to someone who could help him. But the biggest struggle was to try to explain, in English to non-English-speaking people, that he wanted to find his bag. After an hour's wait, a plane arrived, and the second piece of luggage to come through the chute was a bag labeled "URGENT" in bold, capital letters.
"I will never forget the moment when I saw my bag, because in the hours before, I felt hopeless," Nemitz said.
Besides the physical and psychological struggles, those trips were extremely costly, he said. The most expensive part was life insurance. Nemitz said he will always be grateful to the Press Herald for financially supporting his war-reporting expenses, and to his wife, Andrea Nemitz, a former assistant managing editor for photo, graphics and design at the Press Herald. She now works in communications and marketing for the Maine Community Foundation in Portland.
"She completely understood the reasons for my decision and was supportive throughout. I could have never accomplished this without her belief in me," Nemitz said.
He kept in touch with her abroad through cheap phones with poor service, so communication was tough.
When asked what he gained from his war-reporting experiences, Nemitz said he made a lot of close friends, a bond that he won't be able to share with others who weren't there. He said that the more he covered the stories of soldiers he was with, especially those from Maine and the communities he knew, the more he got to know them.
"It became impossible not to befriend them," he said.
Nemitz made other trips, in 2007 and 2013, to various cities in Iraq and Afghanistan respectively, where he covered soldiers on the Iraq border helping out with supply trucks. While being a reporter took most of his time, he did help wounded soldiers in a hospital whenever he was free.
"They (soldiers) kept going back and going back, months after months, and if we don't tell their stories, nobody else will," he said.
Nemitz has been a journalist in Maine since 1977. He began his career as a reporter at the then-Central Maine Morning Sentinel of Waterville. He moved to Portland in 1983, first as a reporter for the then-Evening Express. He later became city editor and assistant managing editor for sports for the Press Herald and its sister paper, the Maine Sunday Telegram. In 1995, he began writing his thrice-weekly column and has been doing that since.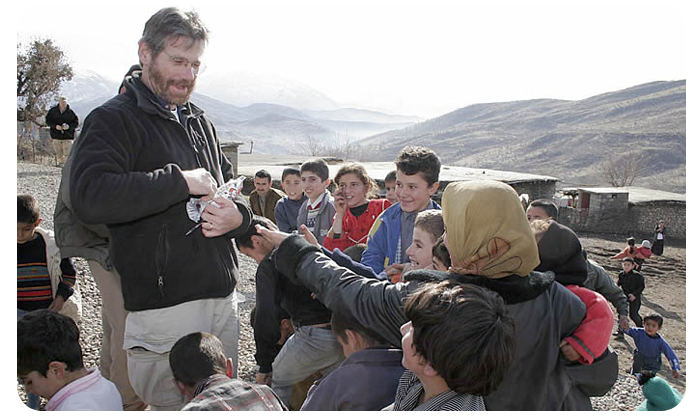 Nemitz hands out candy to children in a village in Irbil province in Northern Iraq in December 2004.
'They (soldiers) kept going back and going back, months after months, and if we don't tell their stories, nobody else will.'
–Bill Nemitz
Vanessa Faria, a student at Northeastern University and an intern with the Bulletin, contributed to this report.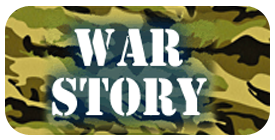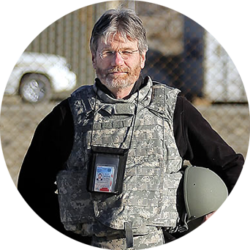 'Even a 15-minute cab ride alone was not considered safe due to common crimes such as kidnapping and murder.'
–Bill Nemitz
'Adrenaline is pumping at all times, and you literally never know what's going to happen in the next minute.'
–Bill Nemitz