By Alison Berstein,
Bulletin Correspondent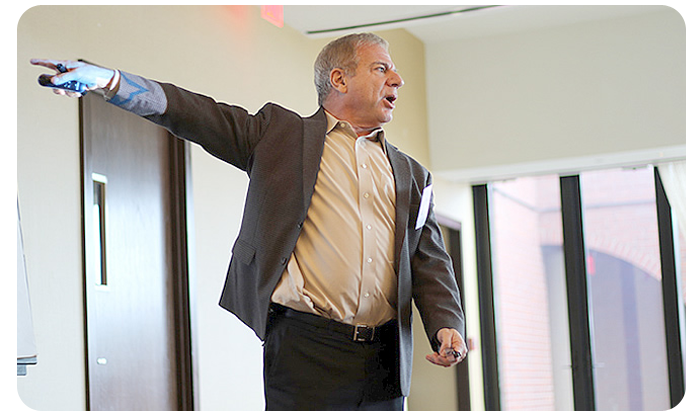 'When you do your elevator pitch, the response better be "wow!" The secret to that is benefit-driven. You don't have readership, you have potential customers.'
—Mike Blinder, President
Blinder Group, Lutz, Fla.
Mike Blinder is a big fan of newspapers, and he does not shy away from saying so.
"Newspapers rock!" he affirmed time and time again at his session "Leveraging digital services to gain new legacy revenue" during the New England Newspaper and Press Association winter convention.
Blinder is president of Blinder Group, a multimedia sales consulting company. He spoke to an audience of about 30 people Friday, Feb. 24, the first day of the two-day convention at the Boston Marriott Long Wharf hotel.
Newspapers and other businesses can survive if they learn how to use the digital skills available to them to engage an audience, Blinder said.
"Research shows that people who market do better than people who don't," said Blinder, whose Lutz, Fla.-based company trains more than 350 media clients in maximizing sales. "If you're not advertising, a competitor can steal your customers."
In a booming voice laced with passion and humor, Blinder shared insight into surviving as a legacy – traditional print – industry while harnessing digital skills.
"It's a geeky way of saying how to make money using the internet," he said. "What we do for a living is we aggregate eyeballs."
Blinder thinks that digital services have the potential to cater to an audience's specific needs.
"Local advertisers are spending a lot of money on digital," he said. "I'm pro digital services."
He highlighted reach and frequency as key components of digital advertising. A business engages an audience and then works to maintain that audience, he said.
"I want to sell that weekly ad, so I'm going to make it sexy," he said. "We want to earn (a client's) trust for a full year. If we don't get frequency, it doesn't work."
Developing and engaging that clientele is especially important for a diminishing print industry, Blinder said.
"Selling media is hard," he said. "It doesn't matter what kind of media. Forty-six percent of adults read a newspaper each week. That's down from 80 to 90 percent 30 years ago."
Blinder recognized that traditional print newspapers might lack the oomph of their digital counterparts.
"People love shiny toys. Our society loves shiny toys. Be excited about something new and exciting," he said.
"Ladies and gentlemen, newspapers rock. The problem is, newspapers aren't a shiny toy," he said.
To get potential customers excited about a product or a service, that product or service must be marketed well, Blinder said.
It is in this spirit that he calls the traditional elevator pitch a "wow statement."
"When you do your elevator pitch, the response better be 'wow!'" he said. "The secret to that is benefit-driven. You don't have readership, you have potential customers."
"Don't sell the steak, sell the sizzle," he said, adapting the slogan of Elmer Wheeler, dubbed "America's Greatest Salesman."
Companies can use this "wow pitch" to emphasize the value that their product gives the consumer, Blinder said.
"We forget that a message is what sells the product," he said. "Don't sell the section, sell what's in the section. Are you truly telling your community what makes you better, smarter, faster than your competitors?"
That practice is known as solution-based selling: What can the product do for you?
"We're not going to say to the advertiser, 'Buy this, this, and this.' You go into a price range that doesn't scare them," Blinder said. "I have arrows in a quiver. Mr. Advertiser, I'm not going to pull out an arrow until I know what you need.
"You can't call the Bureau of Standards and ask for another hour (to advertise)," he said. "You have a limited inventory.
"Find out what they want and give it to them," Blinder said, quoting showman and businessman P.T. Barnum. "In the first 20 seconds, (customers) are going to find out if they're going to buy it or not."
Blinder emphasized that, to reach out to consumers effectively, a company should know how to run its social media pages as well as produce fresh content for those pages.
"All advertisers know they should use social media," he said. "Fifty percent of business owners do not monitor their Facebook page.
"Social media for local businesses is still cool content. It's cool and it's closing deals," he said. "We're saying to the advertiser – once a month, report to your executive something cool, social media fodder."
It's all about engagement, Blinder said.
"The number one way to build a rapport with an advertiser is to speak their language," he said. "If you don't pump them up, we have a problem. You gotta remind them we rock."
He held up a pin that said 'Newspapers Rock!' and invited the audience to take one.
"Grab them and wear them proudly," he said. "Get your swagger back."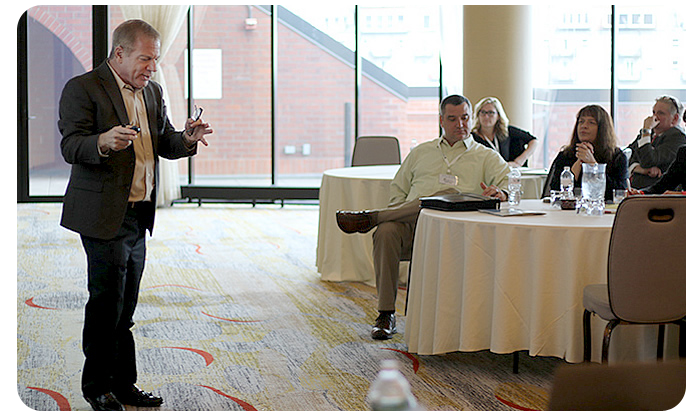 'The number one way to build a rapport with an advertiser is to speak their language. If you don't pump them up, we have a problem. You gotta remind them we rock.'
—Mike Blinder