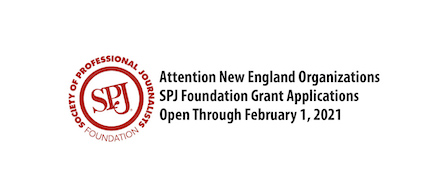 The Society of Professional Journalists Foundation awards about $300,000 in grant monies annually. In the past, some of these grants have been awarded to New England organizations.

The grants primarily support SPJ and also provide support to organizations and causes that further their mission.
Applications are open until February 1, 2021, 11:59 p.m. ET.
Grant requests are first reviewed by the Foundation Grants and Awards Committee and then their recommendations are sent to the SPJ Foundation Board of Directors for their review and selection.
2020 Grants
– SPJ ($22,438)
– National Lesbian & Gay Journalists Association ($5,000)
– WETA (PBS Newshour) ($2,500)
– New England First Amendment Coalition ($1,500)
– James W. Foley Legacy Foundation ($5,000)
– SPJ Region 3 ($2,500)
– National Press Photographers Association ($33,200)
– KUOW ($10,000)