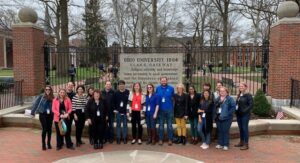 The Kiplinger Program in Public Affairs Journalism is preparing for its 2023 fellowship. This will mark a milestone 50th fellowship. The fellowship will be held at the E.W. Scripps School of Journalism at Ohio University in Athens, after more than four decades at Ohio State University.
This fellowship is titled: Covering Public Discourse and Saving Democracy. As frontline journalists in state capitols, you know better than anyone what this means. Our weeklong fellowship will address such topics as political extremism, combating disinformation, culture wars, campaigning, the voting process, social media for reporting, and much more. A large portion of the curriculum is designed by our chosen fellows.
Kiplinger will cover your training, lodging, most meals, and ground transportation. We will offer a travel stipend to help cover a portion of your airfare or mileage. You must be a working journalist with at least five years of experience. Freelancers are welcome.
You must commit for the entire week and not work remotely during the fellowship. One of the core values of our fellowship has always been that you take time to detach yourself from work for education and socialize with your colleagues here.
The deadline is late November 20, 2022.
Read more and apply at Ohio University E.W. Scripps School of Journalism