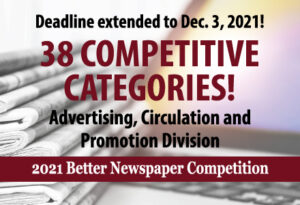 Deadline extended until, Friday, December 3, 2021!
The Advertising/Circulation/Promotion division of the Better Newspaper Competition consists of 38 competitive categories. We encourage Advertising, Circulation, and Marketing/Promotion managers to enter the 2021 competition.
There is no limit on the number of entries per category, except in Advertising General Excellence. Newspapers are eligible to compete in six classes:
Dailies with circulation under 15k
Dailies with circulation more than 15k
Weeklies with circulation under 5k
Weeklies with circulation more than 5k
Specialty and niche publications
News Services and Online News Sites
Publications interested in joining NENPA can find out more information at this link.
Work published during the August 1, 2020, to July 31, 2021 contest year is eligible for this competition.
The deadline to submit entries is Friday, December 3, 2021.
Awards will be presented during the annual New England Newspaper Convention, which will be held in Spring 2022.
Advertising, Circulation, and Promotion Categories:
ADVERTISING
Local Display Ad, Black and White
Local Display Ad
Color Local Online Ad
Most Creative Use of Small Print Space
Advertiser Campaign
Themed Multiple Advertiser Page(s)
Best Sponsored Content
Best Native Advertising
Automotive Display Ad
Real Estate Display Ad
Best Holiday Ad
Best Health Ad
Newspaper Designed Advertising Insert
Best Integrated Campaign for an Advertiser
Special Section / Advertising Supplement
Events Online/Virtual
Events
Business Innovation
Best Digital Revenue Building Idea
Excellence in Revenue Collaboration and Partnerships
Best Idea for Generating Revenue
SPECIAL RECOGNITION
Best Ad Designer
Advertising Director/Manager of the Year
Advertising General Excellence
NEWSPAPER MARKETING AND PROMOTION

Advertising Sales Media Kit
Audience Building Promotion
Classified Promotion
Specialty Publication Promotion
Digital Product Promotion to Advertisers
Digital Product Promotion to Readers
Advertiser Promotion for Special Section
Niche Publication
Pure Ad Niche Publication
NIE Program / Promotion
Newspaper-Sponsored Event Promotion
Subscription Sales Promotion
Subscriber Retention Program
Contests