We are happy to announce that registration is open for the 2021 New England Newspaper Convention, you can view the convention schedule of sessions, speakers, and award presentations. But you must sign-up or log in to your profile on the NENPA platform to register.

How to Get Started in 5 Easy Steps
1. First, follow this link (https://nenpa.tradewing.com/home) to navigate to the community! We recommend you bookmark this page so that it's easy for you to find.
2. Next, click where it says "Sign-up" You'll be prompted to enter your name and email address. Please be sure to use the same email address you receive your NENPA email on. If you receive an error message that says an account already exists with that email address, then go to "Log In" and click Forgot Password.
3. Check your email for an activation link. You may have to check your Spam folder.
4. Click on the link, set your password, and begin exploring!
5. Check out this video on how to log in and run through the features and benefits of the platform!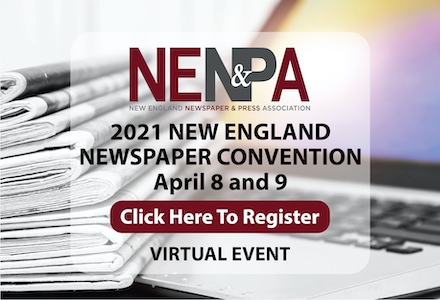 In addition to hosting this year's convention, the platform will serve as a member community where you can connect, collaborate, and learn from your peers all year long. We will be hosting a series of webinars on the platform very soon.
Convention Home | Convention Program | Registration
The centerpiece of the annual Newspaper Convention is the New England Better Newspaper Competition awards presentation, at which hundreds of awards are presented to deserving newspaper professionals from throughout the region.
Individuals are awarded for their extraordinary work in serving their audience, advertisers, and communities. The awards recognize the outstanding coverage, commentary, community involvement, and marketing activities that newspaper professionals throughout New England pursue day-in and day-out.
We'll be notifying award finalists by email next week and will also let you know what day and time at the Convention the winners will be announced!
If your newspaper isn't a current member, you will be able to request access to the online community for an introductory period.
If you have any questions or problems accessing the member community or registering for the Convention contact Linda Conway, NENPA Executive Director at l.conway@nenpa.com.