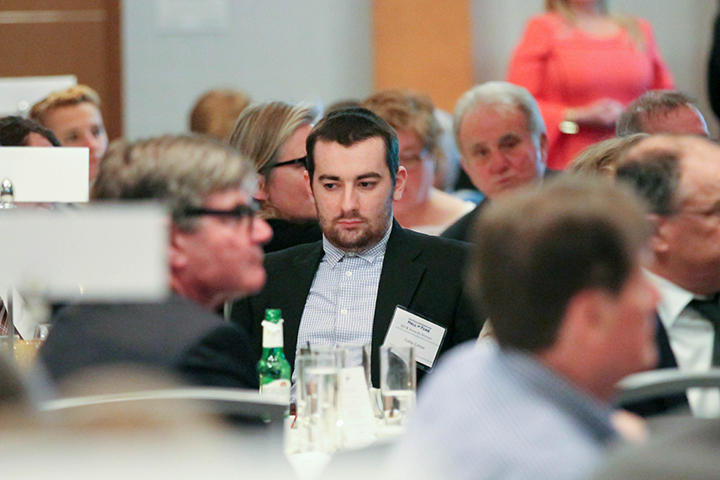 New Hall of Famers




praise peers, recall careers fondly
By Jess DeWitt
Bulletin Staff
The latest members to join the New England Newspaper Hall of Fame nominations emerged from the biggest crop of nominees in the Hall's history.
Although the competition was stiffer, the new members echoed some of the same themes heard at past Hall of Fame induction ceremonies from members who came from thinner fields of candidates.
Six new members were inducted this year. The inductions took place at a dinner Friday, Feb. 23, in the Renaissance Boston Waterfront Hotel in South Boston. The event was part of the New England Newspaper and Press Association winter convention, and was attended by almost 150 people.
Those inducted this year sounded familiar themes of how much they loved newspaper work, and they praised and thanked their colleagues and others.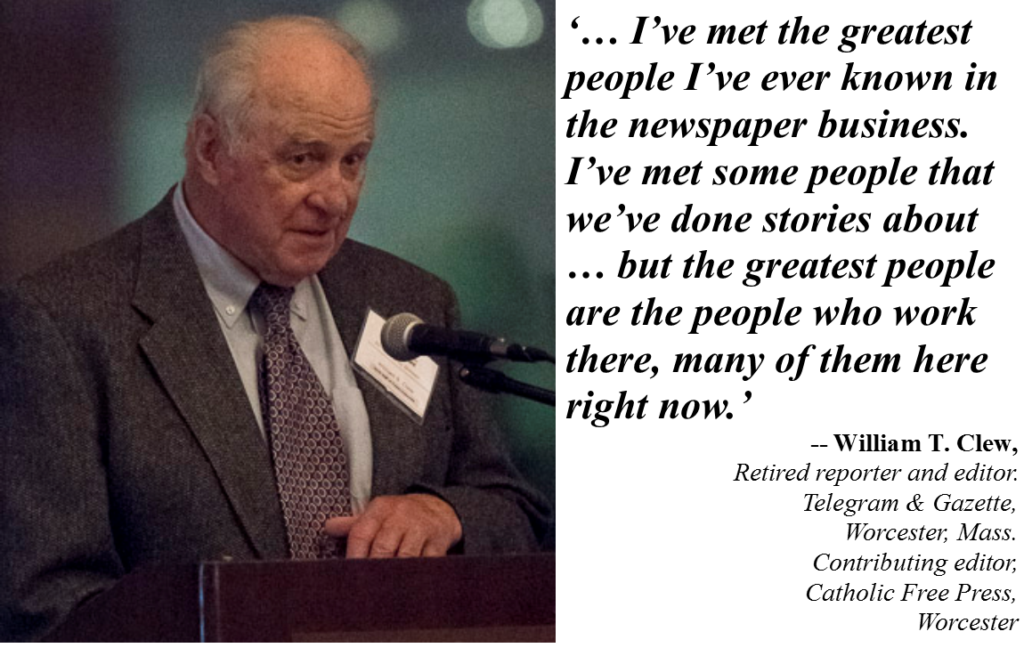 Inducted were William T. Clew, retired after a lengthy career as a reporter and editor at the Telegram & Gazette of Worcester, Mass., and still a contributing editor with The Catholic Free Press of Worcester; Timothy Cotter, managing editor of The Day of New London, Conn.; Peter Gelzinis, retired columnist with the Boston Herald; Lincoln McKie Jr., a teacher at the Northeastern University School of Journalism, and former publisher of the Journal Transcript Newspapers, based in Revere, Mass., former executive editor of The Sun of Lowell, Mass., and former managing editor/news of the Telegram & Gazette; Russel Pergament, chief executive officer of TAB Newspapers, based in Newton, Mass., and founder of Boston Metro; and Lisa Tuite, retired head librarian at The Boston Globe.
Clew noted how worthwhile and enjoyable newspaper work is, and showered gratitude and admiration on his peers.
"It's been a great ride," Clew said. "I really feel it's a lot of fun, and I've met the greatest people I've ever known in the newspaper business. I've met some people that we've done stories about … but the greatest people are the people who work there, many of them here right now."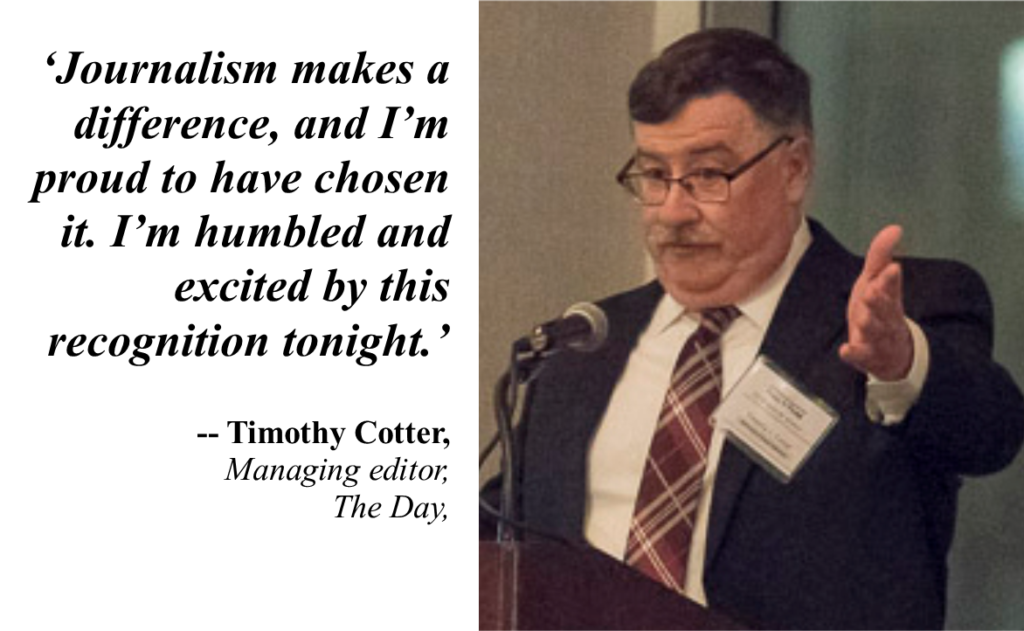 Cotter thanked his friends and family, and mentioned that technology has not completely changed journalism.
"We still shine a light on the top corners of government," Cotter said. "We still tell the stories of those whose voices otherwise would not be heard. The Section 8 tenants living in squalor. The woman with cerebral palsy that won't be able to get to her job if bus service is cut. The elderly whose life savings are being robbed by home-care companions. Journalism makes a difference, and I'm proud to have chosen it. I'm humbled and excited by this recognition tonight."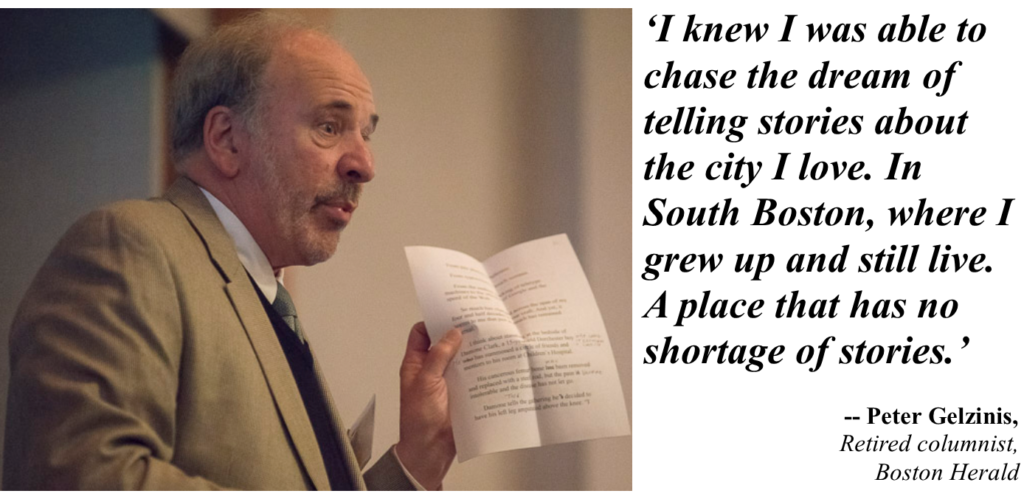 Gelzinis praised his former editor, Mike Bello, who introduced him to the crowd. Gelzinis also spoke about how proud he is to have meshed journalism with his community.
"I knew I was able to chase the dream of telling stories about the city I love. In South Boston, where I grew up and still live. A place that has no shortage of stories," Gelzinis said.
McKie thanked his family and colleagues for helping him thrive in his career. He also spoke about his message to his students.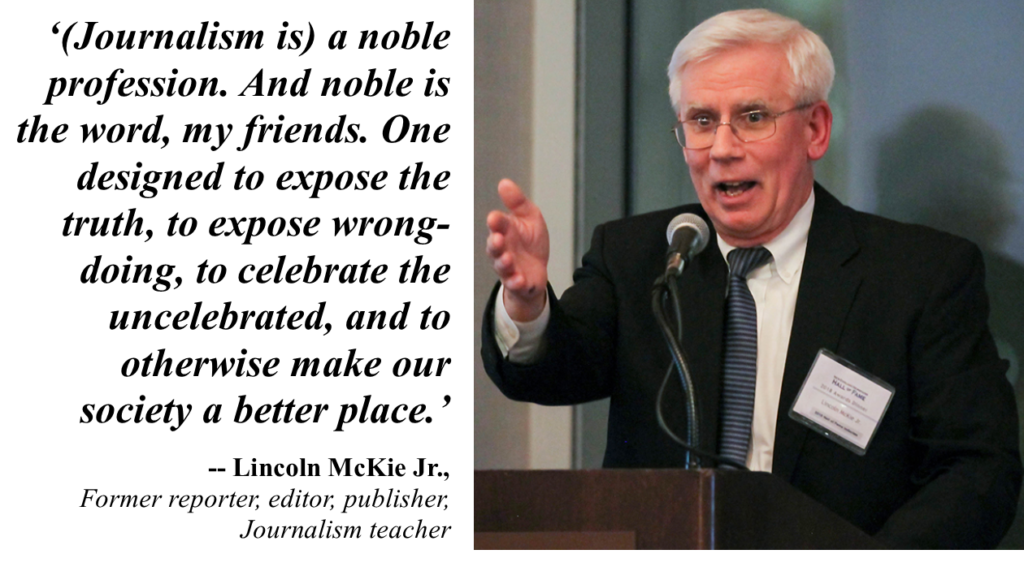 "I tell them they are in a profession that will never make them rich, maybe not even solvent," McKie said. "But I tell them, too, that they will never be more challenged and satisfied, and never meet better people … I tell them in all my years in newsrooms, I never once looked at a clock … And most importantly, I tell them that they are entering a noble profession. And noble is the word, my friends. One designed to expose the truth, to expose wrongdoing, to celebrate the uncelebrated, and to otherwise make our society a better place."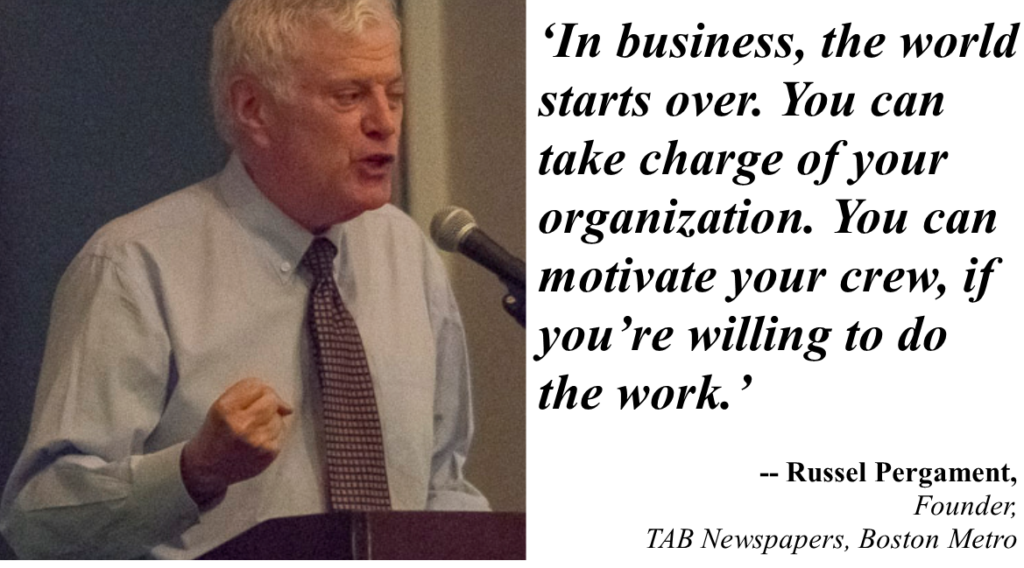 Pergament spent much of his speech telling stories about former colleagues, and offered a bit more of a perspective from the business side of running a newspaper.
"In business, the world starts over," Pergament said. "You can take charge of your organization. You can motivate your crew, if you're willing to do the work."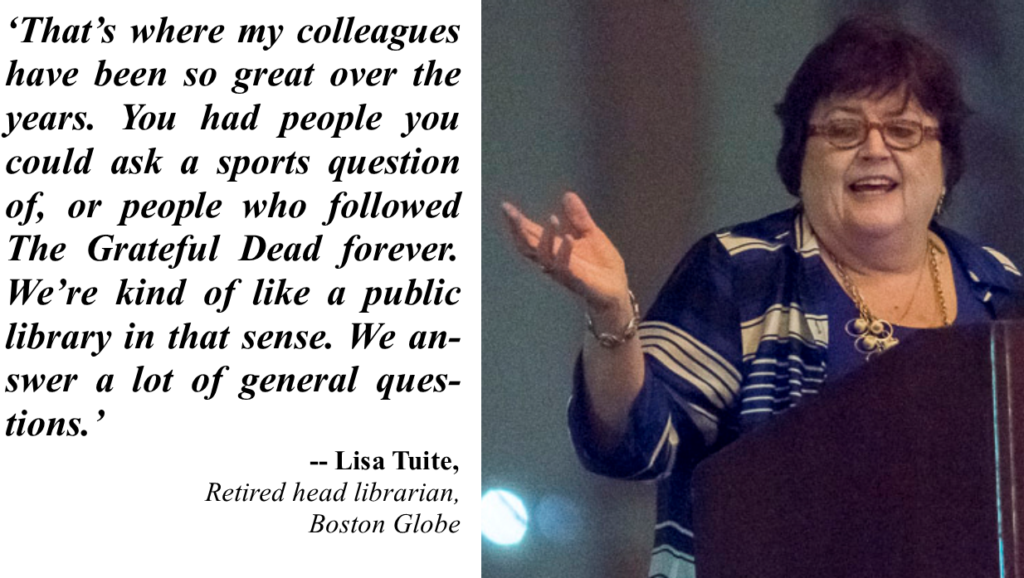 Tuite's induction marked the first time a librarian had received the honor. She spoke about the librarian's job of getting material for reporters and praised her colleagues.
"(Librarian) is a generalist job," Tuite said. "If you're in a newsroom, and you're a business reporter, you don't necessarily care that there's breaking news in sports. Or if you're a sports reporter, you don't necessarily care that there's breaking news in metro. A librarian has to care about all of the stuff, and also, they have to have some knowledge about all of that stuff.
"That's where my colleagues have been so great over the years. You had people you could ask a sports question of, or people who followed The Grateful Dead forever. We're kind of like a public library in that sense. We answer a lot of general questions. I don't think, necessarily, the newsroom always understands that we're spread so thin over so many different departments.
"It's on the coattails of them that I come here," Tuite said.