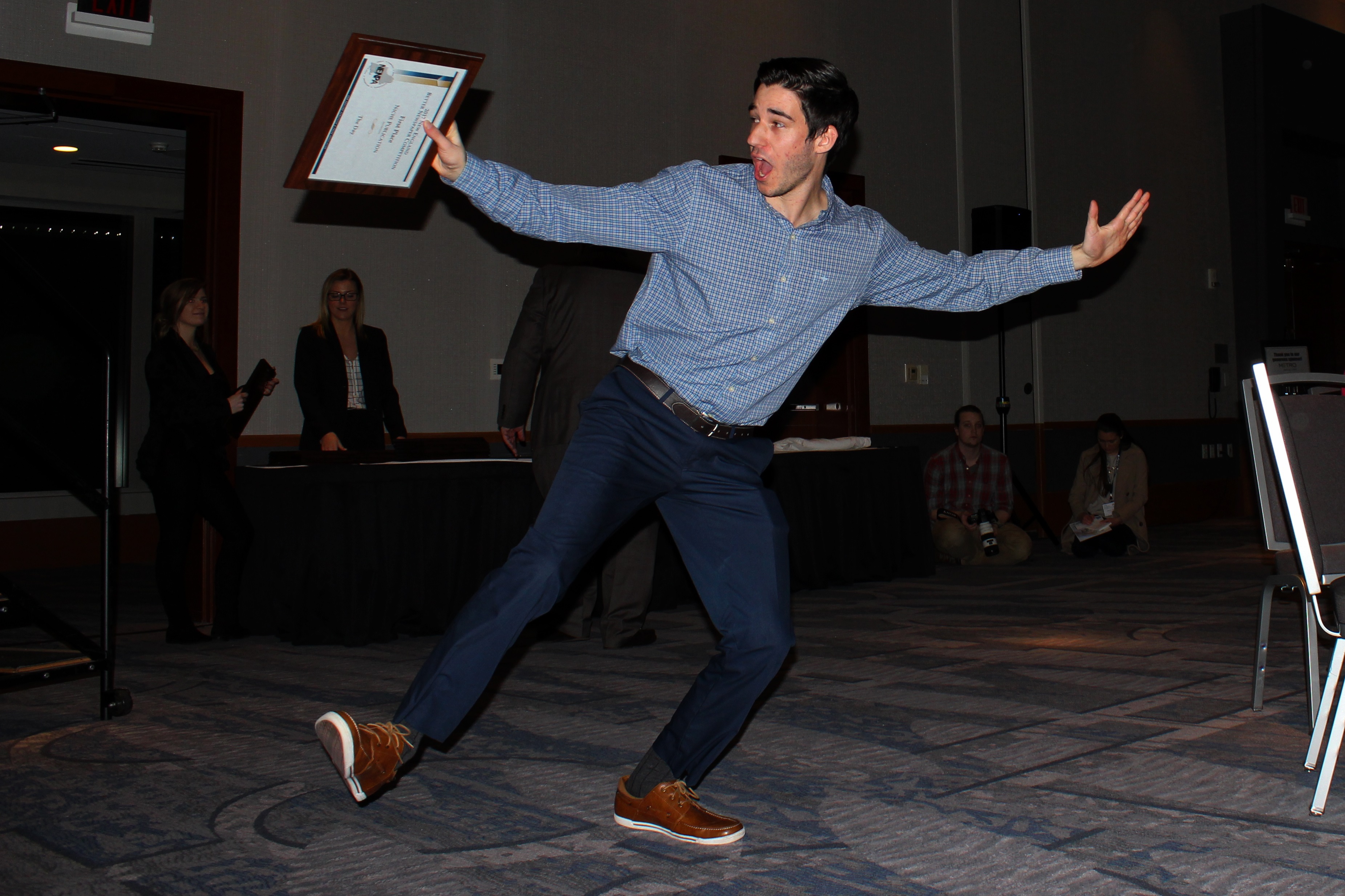 NENPA's 2018 convention
features a new site,
lots of new ideas for innovation
By Jess DeWitt
Bulletin Staff

One change for the annual New England Newspaper and Press Association winter convention this year was its location. It was held for the first time at the Renaissance Boston Waterfront Hotel in South Boston.
But the more important changes that dominated the convention were embedded in its theme: Innovation.
"With the whole media landscape changing so much, we want the newspapers to think innovatively, and try to reinvent themselves," Linda Conway, NENPA's executive director, said.
"That's a big reason why we invited Jason Feifer, because he works with entrepreneurs all the time. We want him to get us to think outside the box. Think of things differently. If you're going to create something new today, is this how you would want to do it? Would you do it the way it normally is? Would you change things only a little bit? Or would you do it totally different?" Conway said.
Both days of the convention, held Friday, Feb. 23, and Saturday, Feb. 24, began with speakers who expressed the value of innovation and being willing to adapt to the changing news-media landscape.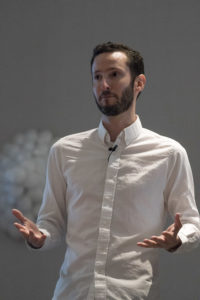 Feifer, editor in chief of Entrepreneur magazine and the keynote speaker on the convention's first day, discussed both of those topics.
Feifer urged his audience to get comfortable with a state of "permanent beta."
"You are never a finished product," he said. "You are always changing, always revising. You live in a state of constant learning, of constant challenging. If (you are) a finished product, you are just on a shelf, and at some point, you are thrown into the garbage."
Saturday's opening speaker, Christopher Goffard, has expanded his journalistic reach into podcasting with "Dirty John," which he began in 2017 and was one of the most downloaded podcasts of the year. He is a veteran print reporter for the Los Angeles Times, and before "Dirty John" had no radio or podcasting experience.
Goffard provided insight into what he had learned from his  first podcast during his discussion, which was attended by almost 100 people. One of the biggest lessons he learned was not to forget the main elements of telling a good story, even though you might be telling it in a different medium.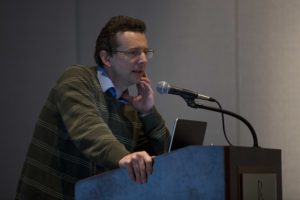 "Find a good story, report the hell out of it, and the audience will come," Goffard said. "('Dirty John') is a fully-reported story. It involves about a year of reporting, and it's constructed as a story in the classic sense that it has a beginning, middle, and an end. It has characters facing choices and conflicts and danger. And because it takes you into the lives of sympathetic human beings who are grappling with a crisis … a lot of people can identify with  (it)."
Goffard was proud of his final product, encouraging his audience to be willing to try podcasting as well.
Jane Elizabeth, director of the accountability journalism program of the American Press Institute in Arlington, Va., also touched on the innovation theme in her discussion on "Accountability Journalism," which was attended by more than 25 people. She stressed the importance of a social media team, and how they can help handle the spreading of misinformation online.
"Learn about and engage with your audiences, and study influencers," Elizabeth gave as two ways to have your social media team go about fighting misinformation.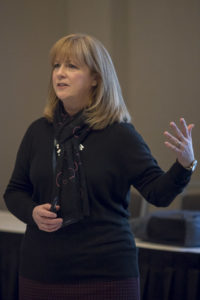 Another discussion was presented by John Ruddy, copy desk chief of The Day of New London; Tom Zuppa, managing editor of The Sun of Lowell; Emily Sweeney,  a reporter at The Boston Globe; and Charles St. Amand, a lecturer at Suffolk University in Boston and secretary-treasurer of the New England Society of News Editors' board of governors.
The panel discussed how to become your own copy editor.
The audience was quizzed on grammar.
"Grammar is underrated," Ruddy said. "It is the road map to how you write."
Zuppa questioned the crowd on mathematics, and then explained the power that math can have in certain forms of journalism. For example, reporting on taxes and real estate requires math skills from a reporter, and could be a subject to study to acquire those skills, he said.
"Math can be really challenging, and if you (learn) some really rudimentary things and do small things to start off, you can get into projects like these eventually, and get the kinds of stories that will really explain things for your community," Zuppa said.
Saturday at the convention began with the NENPA annual meeting.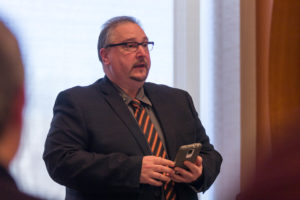 John Voket, associate editor of The Newtown (Conn.) Bee, was elected president of NENPA's board of directors. He succeeds Michael E. Schroeder, president, chief executive officer and publisher of three Connecticut dailies, including the New Britain Herald, a sister weekly and monthly in Connecticut, and a weekly in Rhode Island. Schroeder is now past president of the board. Jeff Peterson, publisher of The Sun Chronicle of Attleboro, Mass., was elected vice president; Phillip C. Camp, publisher of The Vermont Standard of Woodstock, Vt., was elected treasurer; and Angelo Lynn, editor and publisher of Addison Press in Middlebury, Vt., which owns the Addison County Independent there, was elected secretary. Lynn is the only new member of the board's executive committee.
Judith Meyer, executive editor of the Sun Journal of Lewiston, Maine, and Devin Hamilton, regional media publisher of the Journal Tribune of Biddeford, Maine, and its affiliated properties in Maine, New Hampshire and Vermont, were elected as new members of the NENPA board of directors. Leaving the board are Leah Lamson, managing director of the New England High School Journalism Collaborative and former editor of the Telegram & Gazette of Worcester, Mass.; Jane Seagrave, publisher of the Vineyard Gazette of Edgartown, Mass.; and Annie Sherman, managing editor of Newport (R.I.) Life Magazine, all of whose board terms expired.
During the meeting, Conway mentioned that the number of people nominated for the New England Newspaper Hall of Fame increased this year to the highest number in the 17-year history of the Hall of Fame, and that the number of journalism scholarship applications NENPA received also reached a record level in 2018.
Six people were inducted into the Hall of Fame at a dinner and ceremony Friday night at the convention. They are William T. Clew,  retired after a lengthy career as a reporter and editor at the Telegram & Gazette of Worcester, Mass., and still a contributing editor with The Catholic Free Press of Worcester; Timothy Cotter, managing editor of The Day of New London, Conn.; Peter Gelzinis, retired columnist with the Boston Herald; Lincoln McKie Jr., a teacher at the Northeastern University School of Journalism, and former publisher of the Journal Transcript Newspapers, based in Revere, Mass., former executive editor of The Sun of Lowell, Mass., and former managing editor/news of the Telegram & Gazette; Russel Pergament, former chief executive officer of the TAB Newspapers, based in Newton, Mass., and founder of the Boston Metro; and Lisa Tuite, retired head librarian at The Boston Globe.
The convention concluded Saturday night with the New England Better Newspaper Competition Award Winners Banquet, attended by more than 300 people. A total of 212 awards were presented.
Conway said a total of about 850 people attended the convention, down slightly from last year.
Conway said she was thrilled with the quality of the convention as a whole. She praised the speakers and the guests.
"I think (the convention) went great," she said. "All of the feedback we've received has been wholeheartedly positive. I think people enjoyed the sessions and the keynote speakers. The sessions were well attended and attendees came away inspired."
Following are the key award winners for advertising, design, circulation and marketing presented Friday night, Feb. 23:
Business Innovation, combined class: Addison County Independent, Middlebury, Vt.
Best Ad Designer, specialty publications:  Kimberly Vasseur, Worcester (Mass.) Magazine
Best Ad Designer, weekly:  Jane McTeigue, Vineyard Gazette, Martha's Vineyard, Mass.
Best Ad Designer, daily:  Mary Dolan, The Day, New London, Conn.
Advertising General Excellence, specialty:  Shay Riley, Fiddlehead, Keene (N.H.) Sentinel
Advertising General Excellence, weekly: The Vermont Standard, Woodstock, Vt.
Following are the key awards winners for news presented Saturday night, Feb. 24:
Innovator Award, combined class: Vineyard Gazette, Martha's Vineyard, Mass.
Digital Strategy Excellence, daily:  Jessica Garcia, Cecily Weisburg, Allie Baker, Keene (N.H.) Sentinel
Rookie of the Year, weekly: Hadley Barndollar, The Exeter (N.H.) News-Letter
Rookie of the Year, daily: Aimee Chiavaroli, The Standard-Times, New Bedford, Mass.
Photojournalist of the Year, weekly: David Sokol, GateHouse Media New England
Photojournalist of the Year, daily:  Peter Pereira, The Standard-Times, New Bedford, Mass.
Reporter of the Year, weekly: Dan MacAlpine, Ipswich (Mass.) Chronicle
Reporter of the Year, daily: Neal Simpson, The Patriot Ledger, Quincy, Mass.
General Excellence, specialty publications: Providence (R.I.) Business News
General Excellence, smaller weekly: Mount Desert Islander, Bar Harbor, Maine
General Excellence, larger weekly: The Martha's Vineyard Times, Vineyard Haven, Mass.
General Excellence, smaller daily: Concord (N.H.) Monitor
General Excellence, larger daily: Republican-American, Waterbury, Conn.